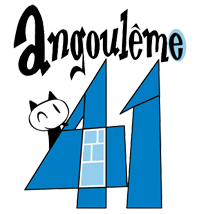 Anybody reading this on the other side of the Atlantic from me? Or just immensely wealthy? Some things to keep an eye out for.
Firstly, the annual Festival de la Bande Dessinée d'Angoulême is getting ready to kick off again, and while my high school French is a little rusty, I'm pretty sure that it starts on Thursday (30 January) and runs until Sunday (Saint Groundhog's Day). There's literally no way for me to look for all the names that might be there — Angoulême is enormous, with more than 200,000 attendees each year, and 6000 to 7000 pros there to meet them.

It adds up to more than five times the population of the host city, and takes over much of the public space. To put this in scale, for San Diego Comic Con to be as large in absolute terms, it would have to roughly double attendance; for it to be as large in relative terms, some five million people would have to descend on the city.

Doing a quick scan of the creator present (okay, I cheated and used the English site; creators listed along with publisher/booth-owner name, which will give you locations here), one finds indy-, euro-, and web-comickers like Derf Backderf, Frank Santoro, and Dash Shaw (with Ca Et La), Scott Campbell (with Cambourakis), Boulet and Lewis Trondheim (with Delacourt Delcourt [per Pierre's correction in the comments; merci, M Lebeaupin]), Alison Bechdel and Joost Swarte (with Denoel Graphic), Alec Longstreth(with L'Employe du Moi — Belgique Wallonie Bruxelle), Bannister (with Glenat), Ben Hatke and Mo Willems (with Rue de Sèvres), and literally thousands more whose names I missed or whose work I'm not familiar with.

Scott Campbell, by the way, will be there to promote and sign Les Grands Duels du Cinéma, which activity he will continue in Paris from Tuesday the 4th to Sunday the 9th at various venues.

As long as we're in France, let's move up the Channel a bit until we come to Belgium, and Ghent (I loved visiting Ghent, particularly the Adoration of the Mystic Lamb at St Bavo's Cathedral¹ and the fortress known as The Gravensteen²), where local animation studio GridFX is making a number of interesting projects. But lots of medium-sized cities have local animation studios, and lots of them are making interesting projects (even if few of those interesting projects have the cachet of, say, The Triplets of Belleville).

GridFX caught my eye because partway down the story — almost in passing — was a bit that mentioned they were the studio that snagged Michel Gagné's The Saga of Rex, as presented in a half-dozen installments over the run of Flight. Gagné will be directing himself, which will probably turn out pretty damn well considering he's directed four shorts, and has an extensive resume including some of the best animated films of the past two decades³. Here's hoping that when Rex is done, it will be seen in more than the occasional arthouse.

Finally, let's finish across the icy North Sea, where it appears that the Machine of Death co-editors have been sidelining as Norwegian contract killers. Because that's normal.
________________
¹ I am possibly the least religious person you will ever meet, and this painting damn near made me believe in the whole High Church, early Renaissance conception of God and Christ and all their saints. It's that transcendent, and all I could think looking upon it was Human hands made this, somehow.
² Designed by a Spanish king to establish his claim to Ghent specifically by looking as menacing as possible. From the row of guildhalls on the opposite side of the canal, it looks like the backdrop for a death metal music video, even in bright sunlight.
But then you look behind you at those guildhalls, and the cafes and bars and people enjoying a damn good beer and you think Okay, you can be badass all you want on that side of the water; we're good over here. What I am saying is along with Bruges and Antwerp, I love the crap out of Ghent and find it a wonderful place to be.
³ Visual effects animation: The Iron Giant; animation on the tasting sequence: Ratatouille; special effects consultant: The Incredibles; development artist: Brave. For those that look back on them fondly, there's also credits on Space Jam and Star Wars: Clone Wars, but I never saw them.