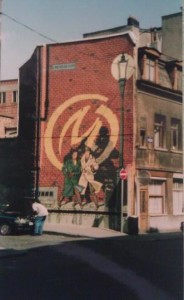 Sometimes,you just need something that was amazing and hasn't been seen for a while to be public and prominent again.
I don't believe that I have written on this page before about a trip I took to Belgium and Holland maybe … fifteen years ago? Sounds about right. While in Brussels, my wife and I visited the Centre Belge de la Bande Dessinée, and in and around all the Hergé exhibits (the whole town is a celebration of Tintin), and the other great Eurocomics (around the corner from my hotel was a mural of Blake et Mortimer that took up the entire side of a building¹), was one small piece of art that was clearly the centerpiece of the entire museum.

One precious, thin to the point of near-transparency original image (not even a "cel", as this predated the use of celluloid for animation) from Gertie the Dinosaur, drawn by Winsor McCay nearly a century earlier. Much of what we recognize as comics, and maybe the entire idea of animation, derives from McCay and Gertie the Dinosaur. Heck, it's a marvel that any of the film still exists, given how little of the silent film era was preserved. But Gertie has never been entirely forgotten, and she's getting her due courtesy of The Toonseum for her one hundredth birthday:

Gertie toured the vaudeville circuit in 1914 along with creator Winsor McCay in a unique show combining a live on stage performance and animation. The show wowed audiences, and left them bewildered at what was dubbed one of the great wonders! That vaudeville circuit would have brought both McCay and Gertie to one of Pittsburgh's many theaters. Now almost 100 years later Gertie returns to Pittsburgh.

On February 8th, kids can come watch Gertie in action on the screen again and learn about the world's first of film's dazzling dinosaurs. Gertie will also be showing off some of her classic cartoon friends on screen as the ToonSeum kicks off our year-long Century of Animation.

Gertie screens at 1:15pm, followed by quick classes in cartooning and flip-book making, and the dinosaur part also gets its due attention:

In addition you can explore Gertie's dinosaur friends including T-rex, Apatosaurus, Velociraptor, and many more from Carnegie Museum of Natural History. Enjoy activities such as measuring teeth and claws, dino foot print stamping, and much more.

The Carnegie Natural History Center's Dippy the Dinosaur will be celebrating his 150th Birthday later this year, so look for other events with Gertie and Dippy coming up soon. (It has long been rumored that Dippy and Gertie are an item!) The event runs from 1pm-3:30pm on February 8th at 1pm at the ToonSeum. The cost is $8.00 per child (general admission) and $3.00 per child (members). Adults are free.

Personally, I think that Gertie might be related to Professor Science, and the velociraptor mentioned may actually be Utahraptor going incognito; naturally, there is only one T-Rex.

You know what kinda looks like a dinosaur, but not really, but kind of? Jellaby. Okay, J's a monster, what with the tiny little horns and wings and all, but work with me here. Because this lets me keep to the theme of welcome returns and the subtheme of dinosaurs and announce that after too long a time out of print, Jellaby volume 1 is coming back:


OMG you guys! JELLABY v.1 is coming back into print! This is awesome news! Yay @CapstoneConnect & @keansoo!!! -kjc

At least in Canada? Amazon's US site doesn't recognize the book, but their Canadian site claims it released last week, even though it appears to not be releasing until March? Look, it's got a new subtitle, a new cover, and a new foreword by Kazu Kibuishi, so find every kid that you know and get them a copy (even if you have to import it from Our Friends To The North) because Jellaby is great.
_______________
¹ I gather that there is more than one in Brussels.