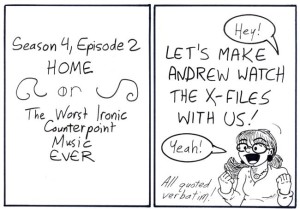 It is now a trend that when an X-Files episode I really remember comes up for treatment in Monster of the Week, it is presented at an arm's length distance. Not that I necessarily mind in the case of Home, because watching other people freak out at it is awesome, too.
On top of yesterday's pre-congrats to Dante Shepherd for 2000 strips, one must also today congratulate David Willis for nine years of Shortpacked!¹, which also marks some sixteen and a half years of continuous Walkyverse continuity. Too bad it's only going for one more year. Say what?


Shortpacked! is nine years old today!

When it turns ten, it will cease regular updates.

That is simultaneously the most respectable admission of devotion to Big Round Numbers, the kindliest advance notice to fans of changes coming down the pike, and the clearest-eyed discussion of why to wrap up a project — namely, the ability to keep on top of primary source material in the face of personal changes in life:

Maggie and I sort of wanted kids eventually ourselves, and so this was something I hadn't considered. I mean, writing Shortpacked! without a growing toy collection or the funds or time to watch movies or basically spend all day on the Internet getting mad at dumb people? How is that possible? It isn't.

Rather than not put into the strip what he feels it deserves, Willis has been for years now transitioning his chief efforts to Dumbing of Age, a far more autobiographical work; Dumbing of Age starting in the autumn of 2010, as the Shortpacked threads started to resolve. We've been in a transition point for his creative efforts for at least the past four years, we just didn't know all of his intent:

I figured Shortpacked! would end whenever that kid happened. I didn't want to leave my characters hanging, so starting in 2010 I immediately started wrapping things up one by one. I gave Amber closure with her father. I gave Amber and Mike a happy ending together. I got Robin and Leslie back together (as was always the plan). I got Ethan the hell away from retail.

That right there? That's a masterclass in creative planning. Kudos to Willis for finding a creative outlet that he can be invested in, for doing what was necessary to bring it to the point of financial stability, and for giving his readers plenty of notice that the Walkyverse will be wrapping up at the age of about seventeen and a half².

Hey, look what I got in: books! It's been a good two days at the ol' Fleenplex mailbox. Thanks to Gina at :01 Books for The Glorkian Warrior Delivers a Pizza, Hidden, and The Undertaking of Lily Chen, and to Bill Barnes for Upgrade Path; their generosity is much appreciated. To receive four such very different books serves to remind me just how broad and deep this medium called comics is. Look for reviews as I have the opportunity to give 'em all a good, thorough reading.
Quick note: work will be taking me to the Upper Midwest at the start of next week, and as a result my opportunities to update during the day may be scarce. Brief and/or delayed postings may be the result, and we trust that you won't be too broken up about it. As always, should disaster befall me during my travels, I call upon all of you to avenge my blood.
_______________
¹ Which, if the strip ids are consecutive, would also be the 2002nd Shortpacked! update, wowsers.
² Ironically, about the age that all his characters were when he launched Roomies! all those years ago.