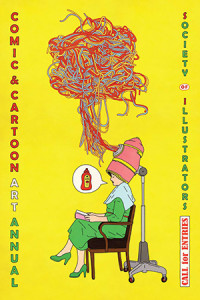 Quiet day out there, which is odd as it's usually Thursdays that are dead, dead, dead. I suppose it's Thursday somewhere as I write this, so let's chalk it up to that and move on.
The Society of Illustrators has made a number of changes to the management of the MoCCA collection and the MoCCA Festival since the transfer of assets some eighteen months ago. Honestly? I'd say about 98% of the changes have been long-overdue and for the better, with the end result of raising the profile and prestige of the MoCCA collection and brand.
That process of change continues, as the SoI extends one of their annual¹ traditions to the MoCCA crowd: there is now a Call For Entries for the first SoI Cartoon & Comic Art Annual:
As we strive to expand our mission of promoting the understanding and appreciation of comic and cartoon art, we are proud to announce the first Annual Comic and Cartoon Art Competition.

This juried competition will result in an exhibition that will showcase the most outstanding works created in this genre throughout each year.

The original works will be exhibited in the MoCCA Gallery at the Society of Illustrators from May 28 through August 16th, 2014.

Opening Award Galas will be scheduled where Medals and Certificates will be presented to the artists whose works are judged best in each category.

All accepted entries will be reproduced in a full color catalog. This catalog will present not only the year's finest works, it will also include commentary by the artists, who explain their creative processes in their own words.

A selection of 40 works from each Exhibition will then tour colleges throughout the country in an educational traveling show, a tradition that we have had at the Society for over 30 years.
Categories exist for Long Form (work longer than 40 pages), Short Form (shorter than 40 pages, including work from anthologies), Special Format (think whatever Chris Ware is doing this year), Digital Media (native to a digital format, including webcomics, online comic strips, and other digitally driven works, up to 20 images per entry), Comic Strip (short form work published in newspapers, magazines, books, online, etc. featuring four or more panels), Single Image (self-contained, with or without caption), and Moving Image (includes animated GIFs, intended to be shown on computer, tablet, via app, etc.).
I can see webcomics creators submitting in the Digital, Comic Strip, or Moving Image categories pretty easily, although I think the definitions should allow for a distinction between long form and short form digital. Somebody get on to the Society and tell them that Gary said they should do their thing differently because he said so, and I'm sure they'll change it right away.
If submitting a long- or short form printed item, six copies need to be provided by mail; special format needs one copy by mail; digital, strip, single image and moving image are submitted electronically, with certain format requirements². Physical entries require an entry form, and the work must have been produced in the time frame Jan 2013 — Jan 2014.
Now here's the part some of you will not like: as is common in artistic and literary annuals, there is a fee to be considered: US$20 per entry for Society members, US$30 for non-members. I don't think this is the same as contests that give the winner the opportunity to work for free (considering it's for work that's already done, rather than spec work), and there are costs involved in the administration and judging³. Still if that's a dealbreaker for you, it's good that you know up front before putting together your submission packets.
Personally, I think that an update by Emily Carroll or Boulet, or a selection of Kate Beatonmas comics would be shoo-ins, but that would depend on how strictly the categories are defined, I suppose. I guess we'll all find out together come springtime.
_______________
¹ Literally, as we'll see in a moment.
² Images are submitted at must be 1000 pixels on the longest side, RGB or JPG; moving images need to be MOV for submission through the site linked above, but links for other formats can be emailed.
³ The SoI is stating plainly that all entries will be seen by all members of the category jury, which could make for a hell of a lot of work for the jury members.