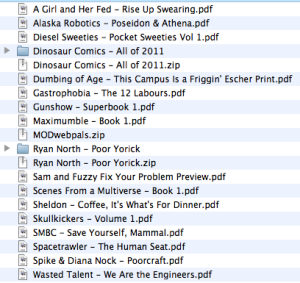 Only one of which you need to — perhaps I should say only one of which you can — pay for!
Let's start with that one. Readers of this page are perhaps familiar with the fact that I dig on Magnolia Porter's comics, in large part because she gets voices down. Her characters are people, not roles that need to be filled. If there's a wacky character, you can be certain that she's that way because of what's happened in her life and backstory, not because the Big Book O' Storytelling says And don't forget to add a wacky character! I dug my way through Bobwhite, and I stand second to no man in my love of Monster Pulse. But I'd never had the chance to read her first comic, a full-length graphic novel about a criminal and his eleven year old daughter/partner.

Good news! My very first graphic novel, The Good Crook, is now available in digital form on Gumroad for just 12 dollars. This is a complete 223-page comic that is no longer available online in any other form. I decided to release in a digital format since I couldn't imagine ever finding enough time and energy to devote to publishing it in print, on top of my more current projects.

The Good Crook has been offline for a while now so if you want to read my earliest work, you finally have the opportunity.

The story is very dear to my heart and even though I was still learning a lot about writing and drawing while I was making it (in high school and my first years of college), I'm still pretty proud and happy with how it ended up.

Here is why I want to read The Good Crook (apart from obsessive completism): Magnolia is a good twenty years younger than I am, and here's an entire work that is old enough that I missed it years ago, and looking at her first work I can enjoy how good she was, how much better she's gotten, and how much improvement she still has in front of her. Also, bargain? That's like five cents a page. And that's what I'll be doing tonight.

In fact, to get in on a greater bargain than The Good Crook, you would have had to make a decision some months, nearly a year, back. You may recall that about a month ago we told you how David Malki ! shared the fact that if you had pledged US$3 or more, you would get a bundle of webcomics in electronic form as part of a stretch goal. I estimated the value of that bundle at north of US$250, so let's see how far off I was, because in the latest MoD Game Update, Malki ! has shared the manifest for that Webcomics Pals E-bundle:


[copied from image]:

Holy crap. That's more than 2043 pages (I don't know how long the Sam & Fuzzy preview is, and I couldn't find the AK Robotics book in the store); taking existing e-book prices (or half the price of a physical book, if no e-book is found) gives a total value of US$102; going just from the prices of physical books (when available — Maximumble and Wasted Talent only have e-books at this point; the 2011 Dinosaur Comics strips aren't collected yet, but the previous three full-year collections went for 20 or 21 dollars), we're looking at US$214 of value. Actually, it's a good deal more than that, since the only way to get a copy of Poor Yorick if you didn't back the Kickstarter is to pony up a princely US$1000, but that will also get you the Dinosaur Comics from 2011, so call it a minimum of US$1100 or so to create this collection by other means.

So good going, 10,666 people¹ who backed the MoD game! You got a whole mess o' entertainment for zero extra dollars. Everybody else, you're kinda pooched². But pooched or not, I think we can appreciate what an undertaking Mr Malki ! has engaged in here, and resolve to let him know that we're totally glad that The Wizard isn't plaguing him any more. So, good job, Malki !, I hope that when the shipping is done you don't get bored.

Yeah, right. Like you don't have five other projects just burning a whole in your future waking hours.
_______________
¹ If one were to multiply the number of people eligible for the reward by the estimated value of building up the collection yourself, it could be argued that Malki ! is responsible for more than US$11.7 million of economic activity!
But that would be silly.
² That strip is from 2 September, 2011 so I guess you get one of the 2011 strips for free?