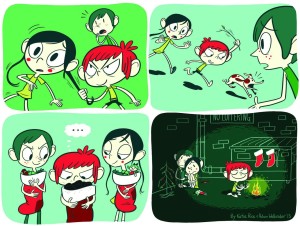 Re: Cards Against Humanity's 12 Days of Holiday Bullshit and hints of the involvement of webcomickers. There are more than twenty creators whose work has been wrangled into shape (by R Stevens) together in a Sunday Funnies-style comics section.
You can enjoy the entire thing online, if you happen to dig on people like (in no particular order) Allie Brosh, Nick Gurewitch, Dylan Meconis, Erika Moen, Maki Naro, Abby Howard, Anthony Clark, Sam Brown, Jon Rosenberg, Ryan North, Natasha Allegri, John Campbell, Zach Weinermsith, Shawn Smith, Elaine Short, Kris Straub, Megan Murphy, Jana Kinsman, Jess Fink, or John Allison¹.
For my money, though, the best one was from Katie Rice, a wordless, delightfully evil little parable about Santa rewarding good children and punishing bad children. For your money, you'll just have to browse through, and if you find work that you particularly like, maybe visit the creator and check out their fine wares?
---
In other news, as I write this, there have been Something*Positive comics for twelve years and eight minutes. Sadly, I can't claim to have been there from the very beginning, having been tipped off to the brilliance of the pudding cat known as Choo-Choo Bear some time after his first appearance, probably around the time two dangerously violent psychopaths got luchador masks. I guess that means for me there's only been eleven years, eight months, eleven days, and eight minutes of S*P, and I've loved every minute of it.
I have written extensively on this page about how Randy Milholland may be my favorite writer of characters, because they quickly grew out of the caricature stage and into messy, complex, changing (ever so slowly) people, none of whom can be entirely dismissed or despised. All of them, even Ollie, have reasons to empathize with them².
Maybe it's appropriate that today's strip features Kharisma, as she's grown the most of any of the cast³. It's a messy kind of extended family that Milholland's built centered on Davan, who I'm just now realizing I haven't felt the need to describe as hapless for a couple of years now. That's the way that Uncle Randy works — slowly, incrementally, and before you realize it, those little incidents of not being an utter asshole have assembled themselves into something resembling redemption and self-improvement.
The really amazing thing, though, is that Milholland used S*P as the springboard for multiple other strips, each of which are just as good. Seriously, get the Super Stupor issues and ask yourself (like I do) why Randy doesn't have major publishers offering him miniseries.
Finally, let me wrap up this by reminding you all that it is your moral duty, on whatever occasion you may actually meet Mr Milholland, to badger him mercilessly until he does the Fluffmodeus voice. You may need to offer booze. It's a fair trade.
So sorry about that, Randy, and thanks very much for the comics; you — and they — are damn good.
_______________
¹ All of whom, it should be noted, were paid for their contributions, 'cause CAH don't screw around.
² Okay, not Avogadro, but he's dead. Also, I'm not sure that Fluffmodeus is actually a sentient being as opposed to free-roaming hallucination.
³ Except maybe Mike, but I'd argue that he's much further along the way towards being an actual, whole person and Kharisma is very much still a work in progress. Additionally, Kharisma's growth has largely been by dint of her own personal effort, seeing as how she's on the wrong and the only good examples she's got are the ones she can make for herself.