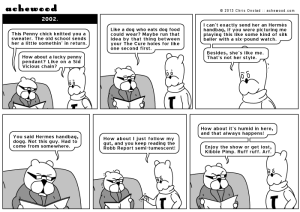 In case anybody had any doubts that Chris Onstad is a languagesmith of the highest order, may I refer you to today's Achewood. Even if this storyline ends here, it was worth it.
In other news, a tweet dropped that makes perfect, perfect sense, so much so that in retrospect, we at Fleen are surprised that it doesn't drop earlier:


We can now announce that Becky is the character designer on Bee and PuppyCat!

That would be Becky Dreistadt, and naturally everybody here knows Bee and PuppyCat and on the off chance you don't know Bee and PuppyCat, please acquaint yourself with Bee and PuppyCat immediately. Heck, go watch it now anyway, I'll wait.

Back? Awesome. In case there were any doubts that Dreistadt were the right person for this design job¹, check out any part of her portfolio, including her work on Tiny Kitten Teeth, Capture Creatures, The Bear, or Benign Kingdom. You would have to spend a decade of concentrated mad-scientist bioengineering to create somebody better suited to this role on this webseries. Also, I would pay money to see Beer and PuppyFrat expanded into an episode, much like Natasha Allegri's gender-reversed joke illustrations became Adventure Time's Fionna and Cake².

The recognition of webcomics-type ladies and dudes continues at The AV Club, this time with the staffers indicating what one piece of pop culture from 2013 they would share with the entire world if possible. Among the responses: Nimona by Noelle Stephenson and To Be or Not To Be by the ubiquitous Ryan North.
The Patreon train continues its travel through Webcomicsville; since Jon Rosenberg³ launched his page on Monday, he's nearly reached his first extra-reward tier. On Wednesday, Zach Weinersmith jumped on board and is already on the verge of altering the ad mix on his page. Today Ryan Sohmer got his ticket punched, with the potential of launching another comic.

I'd worry about the additional writing duties causing his brain to collapse from over-mining, but honestly — the difference between the workload of writing two regular webcomics, one ongoing children's book4, two webseries, and two editorial comics and writing three regular webcomics, one ongoing children's book, two webseries, and two editorial comics isn't that much, incrementally. Back the Patreon campaign, and you can help drive him to the brink of neural overload!
_______________
¹ And that's before one considers the neat symmetry that the "Frank" of BeckyandFrank would be Frank Gibson, who provided the voice of Wallace in Bee and PuppyCat
² And who created Bee and PuppyCat? Natasha Allegri. Wheels within wheels, plans within plans. It all fits together!
³ Obligatory disclaimer, etc.
4 Illustrated by Becky Dreistadt! It all comes back around!