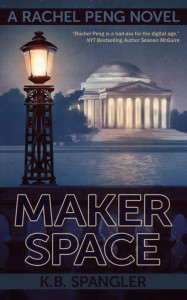 Well, that's my holidays all cheered up — the inimitable Tom Spurgeon¹ decided that his year-end interview schedule needed a hack webcomics pseudojournalist for balance, and we just had a delightful talk. Assuming you don't get enough of my semi-abusive opinionmongering here, I'll be sure to let you know when that goes live. And may I say, this was the first time Spurgeon and I have interacted person-to-person, and he's simply a terrific conversationalist. In case you still need a little something to cheer up your holidays, there's places out there that would provide you with gifts for the comics center of your brain; let's go check 'em out.
Via the tweet-feed of Mr Scott C, I see that Gallery 1988 will be holding the latest iteration of its Crazy 4 Cult show in New York this year, meaning that I get a shot at Scott C art without having to fly to LA. Opening is tomorrow night, at G1988's Manhattan space, 355A Bowery (at 3rd), from 7:00pm to 10:00pm. Past experience of gallery openings suggests that there may well be snacks and booze available. There will be an associated signing event on Sunday, from noon to 4:00pm, and the show will run each day from noon to 7:00pm, until Saturday, 21 December.
Word is appearing online that the 12 Days of Holiday Bullshit packages o' fun are arriving in mailboxes. I, alas, missed my chance to get in on the gifting extravaganza, despite the exhortations of people like Rich Stevens and Dylan Meconis dropping broad hints on Twitter that I really should be signing up.

There are still nine days to go according to the official page, and given that they've commissioned a Molly Lewis song about Hawai'ian detachable-vagina gods, I'm guessing that when the Stevens/Meconis thing drops, we'll all recognize it immediately. If one of you who are in the lucky 100,000 subscribers would let us know when that happens, that would be awesome.

This page is well known to be in the tank for K Brooke "Otter" Spangler, creator extraordinaire of A Girl And Her Fed, and aside from the fact that she regularly gifts us with one of my favorite webcomics for free, she's decided to up the ante somewhat. Take 'er away, Otter [no direct link]:


How would you like the first nine chapters of MAKER SPACE?

Maker Space would be the second of Spangler's AGAHFiverse novels; the first, Digital Divide, was terrific, and the second looks to be even better. Disclaimer: Otter asked me to do a reality-check on a plot point involving a branch of engineering I'm not trained in, so I've seen a snippet of the book and loved it, even though I was spectacularly useless with respect to the technical check she was seeking².

How would you like them for free?

Now we're talkin'. Spangler is offering approximately the first third of her next novel for the princely sum of zero dollars because she's awesome. Also because when the book actually comes out in March, some of you will want to see how it turns out and might pony up more than zero dollars for the ending. In the meantime, if you haven't taken my advice on how good a story-wrangler Otter is, this is your no-risk chance to check out her stuff, in PDF format here or Kindle-style MOBI here.

Those links will take you to Gumroad, where you'll be asked for a credit card number — don't provide one. As soon as you enter 0 in the price box, the request for your plastic will go away; give 'em an email address to send the link to, and get to downloadin' and readin' and enjoyin'. Oh, and be sure to leave out a plated of cookies and glass of milk for Otter Claus³.
_______________
¹ So don't even try to imit him!
² Not that that kept me from commenting on almost every other aspect of what she sent me. Pedantry, thy name is, uh, me.
³ If anybody wanted to draw a sketch of Otter Claus, well, I wouldn't say no.