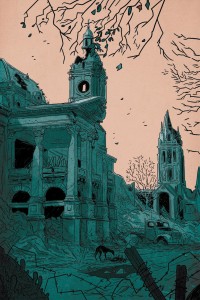 Hey. How are you? Good, good. There are some things coming up that you might want to keep an eye on.
T minus 10 days That's when the latest iteration of The Whole Story finishes up its Kickstarter campaign, and truth be told, it looks like it might be a squeaker. The last release of The Whole Story handily cleared its goal, but this one is presently predicted to hit around 95% of goal, and that is just heartbreaking for a couple of reasons:

Ryan Estrada is trying something really audacious here, where the main reward is an e-comic sent to you every two weeks, and the stories are interlinked. The hero of the first installment of Broken Telephone (for that is its name) has a villain to defeat, but that villain doesn't know that he's the villain — he's the hero of his own story, which will be the second installment. Each antagonist gets a turn in the spotlight, through an 18 part epic by 19 creators.
Those that go above the bare minimum of one stinking dollar will get more comics, including a 24 page bonus story at the US$18 level, 160 pages of various stories¹ added to your fortnightly subscription at the US$24 level, and a mind-boggling 850 pages from various creators² delivered this month before the Broken Telephone subscription even starts. That would be nearly 1050 pages plus the BT subscription (18 chapters, each 12 – 24 pages, call it 300 or so as a round number), or a whopping 3.3 cents per page.
All the money goes to the artists. Estrada, maybe more than anybody, understands that working for exposure is a vile, filthy lie, so aside from postage costs for some top-tier backers getting originals and such, everything raised goes to pay the people who are drawing the comics. Go take a look at the list of names that Estrada's posted — I'll wager that there's at least one person there whose work you enjoy. That person gets paid if The Whole Story makes goal.

Do it for the children.

T minus 15 days The Beguiling's annual comics-funtimes party will be on Wednesday, 18 December, starting at 7:30pm, mere steps from the famed comic shop at Pauper's Pub where there will be plentiful adult beverages and webcomics superstars. Kate Beaton! Joey Comeau! Ryan North! The launch of Midas Flesh! And I don't want to make it sound too enticing, but we have been promised both Surprise Mystery Guests and shenanigans. There will be signings of all their various booklike creations, and a Secret Santa gift exchange.

Also do this for the children.

T minus about 90 days, dang Hat tip to Kean Soo who pointed me to an amazing new webcomic, Maralinga 1956, which launched a story of post-apocalyptic survival and monsters about a week ago. Good news: there's ten pages of very good story there. Bad news: the creators will be updating with ten-page chapters on a quarterly basis, meaning that:


Maralinga will be a 200ish page graphic novel posted in quarterly 10 page installments, so should be wrapping up in around, ulp, 2018.

I'm annoyed because I want more of this story yesterday, but waiting for few-and-far-between updates in longform stories is nothing new. No RSS, but there is a form to sign up for email notification when Maralinga updates in, I'm guessing late February/early March.

You'll have to do this for the children, since children have no concept of in three months.
_________________
¹ Including one of Estrada's true-life adventures, The Bear From The Bear And The Beach From The Beach, wherein Estrada gets close to the movies and nearly dies a lot.
² Including more true-life adventures in Estradavision and Dean Trippe's Something Terrible, which is going to appear on a lot of best-of lists this year and awards ballots next year.