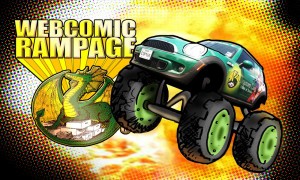 It's Events Day at the Fleen Ranch, so break out the dayplanner and gas up the car, you got some places to be. While you're waiting for the tank to fill and the GPS to get your directions together, Rich Stevens dropped some wisdom last night, followed by the mic. Check it:
Do you want to make webcomics?

OK, great. You need two traits. One or the other, you will fail at my definition of webcomics in the professional sense.

1.) You need to find joy in variations on a theme, even if the theme is "your imagination." You will hopefully be doing this task thousands and thousands of times. Enjoy it, love it, do it for the right reasons.

2.) You will need a gleeful, hateful, beautiful endurance. Avoid drama and destroy all your enemies by being solidly there for your fans. Save your heckling for the graves of misogynists.

The end. [boldface original]
Something to ponder while you make your way around the country.