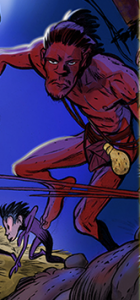 Happy Halloween, kids! Try not to rot your teeth out by the weekend.
November is shaping up to be a momentous month, as it's finally been announced when Jeff Smith's new webcomic will be launching. As previously noted, Tüki Save The Humans [that link may just be a placeholder; we'll all find out together in a couple of weeks] will be about the first human to leave Africa for the wider world, and it's been in the planning stages for a very long time (Smith's wife and publisher, Vijaya Iyer, was dropping hints as long ago as SDCC 2012). Working in a share-first, print-later model will be a big change for Smith, and his shift to the webcomic model will represent perhaps the biggest name in dead-tree comics to take a flyer on our weird little community.

In any event, Tüki will be unveiled in a 10 November brunch at the Society of Illustrators in New York, as a benefit for the Comic Book Legal Defense Fund (Smith has been a long-time supporter of the Fund), which you can attend in exchange for a donation to the CBLDF. You've got US$100 general admission tickets (US$40 of which is tax deductible), and for those that want to get up close and in-person with Smith, there's the US$250 VIP ticket (US$190 deductible). Drat and darn, about the time the program starts at noon I'll be at the airport getting ready to depart for Wildest Iowa for work, or I would most likely be there, because Jeff's great, the Society is great, the CBLDF is great, and I have a feeling that Tüki is going to be great as well.

For those that can't be in New York on the tenth, how about Pittsburgh on the ninth? The Toonseum will be holding a memorial service for Lou Scheimer, the recently-departed animation impresario and co-founder of Filmation. For those that were too young to catch Filmation in its heyday on Saturday mornings, or perhaps after school, the animation was basic, limited, featured a lot of re-used stock footage, and was pretty often in the service of not particularly great shows.

He also made sure that Filmation's work was never sent overseas and was a major contributor to keeping animation jobs and skills in America. There's a lot of animators today that grew up watching Filmation's various shows, and they've been the teachers and inspirations of at least one more generation. Scheimer was a Pittsburgh native, as well as a supporter and booster of The Toonseum, where a gallery is named in his honor. The memorial is open to the public, and will run from 7:00pm to 9:00pm.

On the off chance that you're having trouble keeping track of all these dates, can I suggest you invest in a webcomic-themed calendar? Okay, the offerings from Jorge Cham and Brad Guigar might only start in January, 2014 … but if you'd bought one last year, you'd have someplace to note your Pittsburgh or New York comics-themed events right now, wouldn't you? Don't let that happen to you next year.