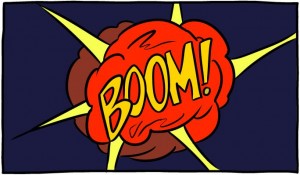 It's just like squirrels; if you see one, there's probably others lurking around.
Congratulations to Darren J Gendron, creator of many webcomics and webcomics-adjacent projects, who reports this morning:


As of 6:32 a.m., we have the arrival of one Montgomery Ironwill Gendron, weighing 6 pounds, 15 ounces. Mommy and Monty are doing fine.

Those clicking on the link will find that this time that photo is of a cleaned-up and suitable for the Amiden Great-Aunt baby, so that's good. Also, if Young Master Gendron's middle name actually is Ironwill, that is totally badass¹; considering that Monty's big brother is named Franklin Powers Gendron, there's an excellent chance of badassery.

Also, Jesse Thorn² tweeted a little while ago:

Oscar Thorn was born this morning at 3:45. He and @TheresaThorn are healthy and beautiful and amazing.

Considering that the Thorns are west coasters, that would be about fifteen minutes after Ironwill entered the world. One is forced to conclude two things:

Man, Jesse really didn't want to get a dog.
These babies are coming closer and closer together; the (last we saw) tremendously preggers Rene Engström has probably had five babies as a result of all this prompting.

Know who's had a lot of overlap with Jesse and Theresa Thorn, particularly vis-à-vis multiple iterations of MaxFunCon? David Malki !. Despite being busier than twelve ordinary humans trying to determine the optimal delivery method of the Machine of Death game, he also ends up with ideas that must be dealt with immediately.

Let's be clear, that beard-related idea occurred yesterday; the shirt is available for order today. And for the process nerds among you, Malki ! has shared a very nice writeup of how the design was constructed, possibly as an excuse to talk about a favorite (free) design tool.

How do you know you've arrived? Make a ridiculously implausible comic, then hours later have the premise confirmed by the frighteningly smart and capable people you're spoofing. Mr Weinersmith, I believe that Stockholm is on the line with news of your Nobel.
________________
¹ Not to mention unlikely to be duplicated once he ends up in class with all the Jadens and Jaydens and Jaedons.
² He doesn't do a webcomic, but the Maximum Fun empire is a client of Mr I Am Made of Poison, and he has followed the independent creator give it away/monetize the back end model for years, so he counts.