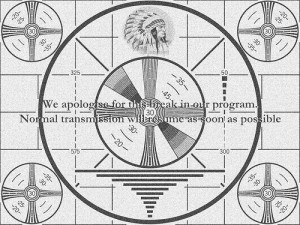 Well! That was fun! Let's mention all the things that I wanted to talk about yesterday, yes?
Because of the interruption, I'm behind on pointing out Spike's amazing near-24 hour comic on making it in comics (think of it as a very narrowly-scoped version of Poorcraft, only instead of being about life in general, it's about being a comics artist in particular) and the Kickstarter for Natasha Allegri's Bee and Puppycat to be made into a series. Both of these things are awesome, and I have practically nothing to add to what was already said (except, perhaps, to note that the US$10,000 limited reward for the Bee & Puppycat Kickstarter was snagged up sometime in the first hour and forty-five minutes).
Heck I'm even behind on congratulating Gene Luen Yang for Boxers & Saints moving up from the Long List to finalist at the National Book Awards in the category of Young People's Literature. I noted after the long list announcement that I'd been unable to find any other graphic novels that have been nominated in the history of the NBAs; with this latest (and supremely well-deserved) nod, Yang is certainly the first to repeat for graphic novel recognition. Heck, even getting nominated more than once is rare — Kathi Appelt is nominated this year alongside Yang and was also in 2008, and Rita Williams-Garcia was nominated back-to-back in 2009 and 2010. That's some pretty rarified company that Yang finds himself in.
Now that I'm caught up, let me get ahead of the curve on two other items I found interesting:
Lauren Zukauskas does the great Rachael & Penny and opened up orders for a very limited run of her first print collection, which is now unfortunately sold out. However! She is taking pre-orders on a new print run so you can still get in on that. R&P is terrific stuff, so give this one a good look, 'kay?
And the always-valuable Jim Zub took the time to share numbers once again (see earlier data here) on how Skullkickers (a critically-lauded, modest-selling indy comic) has finally earned out and become net profitable. It took 23 issues and more than two years, and it's a very small slice of profit, but it's profit. If you're trying to make money on your own in comics, read everything Zub has to say about Skullkickers — it's the perfect complement to Spike's comics-lifestyle travelogue.
Lastly, some good news in a world that seems bound and determined to exploit the crap out of independent creators; from Ryan Estrada (who else?):


If you need a happy ending: I'll be sending well paying job offers out soon to some artists I found by editing @forexposure_txt

Suck on that, wannabe exploiters; creators worth working with get paid, with money.