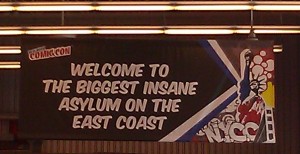 I'm not sure what was more unusual — that the closest thing I have to a home-town convention got covered (due to Work and Family circumstances) in about half of a Saturday, or that the Javits Center's renovations have cleared off the main show floor to the extent that such was possible for me to do.
Having learned my lesson last year re: the impossibility of swimming against the tide to Artists Alley, I arrived good and early on Saturday morning, my press badge in hand and my Twitter account credentials resolutely un-registered. Early enough, in fact, that the possible chokepoints where you had to physically touch your badge to a reader to enter or exit the grounds weren't very chokepointy at all, but I wasn't entering or exiting with large swells of people.
_______________
¹ Bonus fun: this book contains the Showdown from The Adventures of Buckaroo Banzai Across the 8th Dimension, which hangs on my wall.
² I wasn't going to get NAMCO High, but if Magnolia Porter is writing character/dialog for high school students? I'm there.