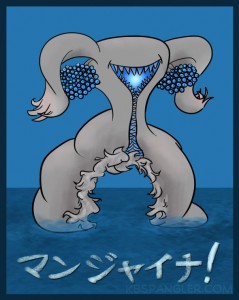 Sometimes things happen quickly. Time from noted SF author John Scalzi tweeting about being referred to as a mangina to noted fantasy author Seanan McGuire deciding that sounds more like a kaiju than an insult: 2 minutes. Time from that to noted SF author/webcomicker Howard Tayler¹ to throw a little fuel on the fire of there needing to be a mangina kaiju illustration: 8 minutes. Time from that to noted webcomicker and thriller/pulp author K Brooke "Otter" Spangler² to take up the stylus and get to artin': 2 minutes.
And a mere 69³ minutes later (which included research), the kaiju in question was unleashed on an unsuspecting world. From offhand complaint to brain-melting horror: 81 minutes. Not to mention Tayler's later upping of the ante (complete with robo-tighty-whities), and a short while ago the unveiling of the inevitable battle between the two by webcomicker Kasey Gibbs. We live in a weird, weird world, my friends.
_______________
¹ My evil twin.
² Disclaimer: a personal friend, and curiously the only one mentioned so far without at least one Hugo Award; get on that, Hugo nominating committee!
³ It's a coincidence, grow up.