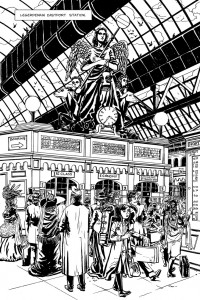 Day's almost done, so let's get this done.
10! Years, that is. I missed it earlier, but this past Sunday marked ten years of Order of the Stick by Rich Burlew. Despite various heatlh-related hiatuses, Burlew has managed an average of 92 (sometimes ridiculously complex) strips a year for a decade, or one every four days, so if you're one of those that complain about not getting your free entertainment more regularly, please be quiet.
2500! Strips, that is. Ryan North, despite writing all the awesome comic books, revivifying an entire book genre, training a small mammal, inspiring two bestselling anthologies, and writing a critique of a movie novelization longer than the novelization itself has found the time to create 2500 completely sweet episodes of T-Rex. Also he is very tall.
Return! Just in time for Halloween, that is. Dave Roman is more blur than human; he is in constant motion as he promotes comics to young readers, and amazing characters fall out of his brain and onto the page with astonishing regularity: Jax Epoch, Astronaut Academy, Teen Boat¹ … and back today for more installments, Agnes Quill. There couldn't be a better time for the plucky, smart teen detective and the haunted city she calls home, what with it being October and all.
________________
¹ Be careful about searching for the term "teen boat", as the porn industry makes the term "teen" fairly toxic to search for, especially if you're at work.