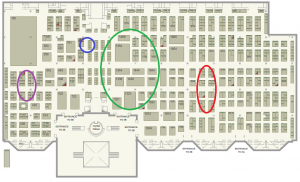 So the floor plan for NYCC 2013 is out and do you see what I see? Or rather, what I don't see? The hazardous-to-life-and-sanity construction zone running east-west through the Javits Center is gone, praise be to whatever you find praiseworthy¹. That means that we can tell you who is webcomics-like that's gonna be there, and where you can find 'em. As in past years, the people that you're going to want to see are in several clusters, including Artists Alley, and aisles 900, 1300, 1600, and 2200. Also, there's a couple of gonzo you've got to be kidding booth choices way the heck over in the 300-400 zone that I'm including for giggles. Let's check 'em out.

Artists Alley
As was the case last year, Artists Alley is in the North Pavilion of the Javits, accessible via a roughly two block long passageway from the north end of the main convention center. It is my most sincere wish that the showrunners have learned how to funnel people into and out of the convention center without making it impossible to navigate to the North Pavilion². Unfortunately, the AA map requires a zoom of 650%+ to get to the point of legible table numbers, so I won't be marking those up the diagram. Nevertheless you may here find Ramón Pérez (K10), Jim Zub & Edwin Huang (H6), Katie Cook (C10), and Strip Search hippie love commune survivors Katie Rice, Maki Naro, and Mackenzie Schubert (V5, V6, V7). Also, plentiful ATMs and natural light, yay.
Main Floor
Since we were just in the North Pavilion, let's start from the north, high-numbered end of the main show floor (on the right side of the image) and progress southward.
---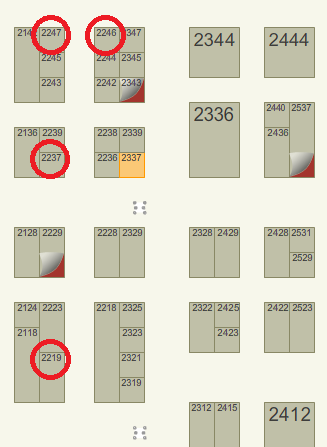 The 2200 Aisle is our first cluster of interest, where we'll find comic strip publisher Andrews McMeel (booth 2219), occasional show home of Matthew Inman. A little deeper into the hall and you'll get :01 Books (booth 2237), Blind Ferret (booth 2246), and Cyanide & Happiness (booth 2247). For those playing at home, that's two high-traffic booths directly across the from each other; fortunately, they're also on a main travel aisle.
---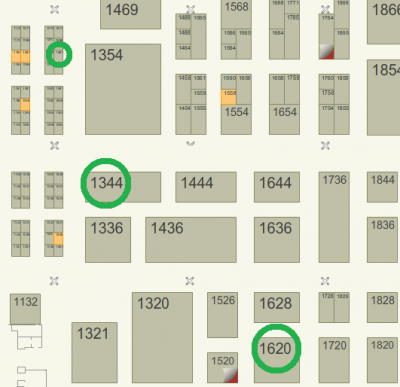 Continuing south, there's a quick jog to the front of the hall for ShiftyLook (booth 1620), which is probably your best show of catching up with random webcomickers who aren't at their own booths or tables. Three aisles over, you can find Boom! Studios (another possible place to find random webcomickers, at booth 1344), and 1977 The Comic creator Byron Wilkins (booth 1367).
---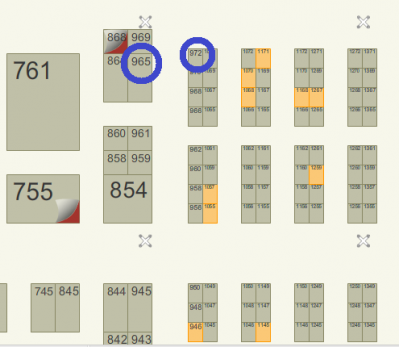 A few more aisles along, you'll get The First Law Of Mad Science (booth 972) close by the deserving-of-your-support Comic Book Legal Defense Fund (booth 965). A bit thin on webcomickers this year, I'll grant, offset somewhat by the largest contingent of webcomickers as invited guests of the show that I can recall.
---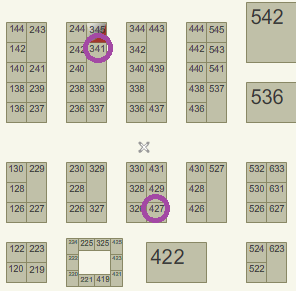 Oh, and for anybody looking to get away from comics entirely, keep heading south until you hit the 300-400 zone and there you will find both Brooklyn Bewery (booth 427), which I sorta get as there is a panel on comics and beer on Friday, and the Embassy of Spain Trade Commission (booth 341), which I don't get at all. But I am going to go and ask why the Spanish love comics.
_______________
¹ I'm chuckin' around praise today like it's going out of style.
² Or perhaps I should say dangerous, to the point that I never made it there last year, despite hearing that it was very nice.