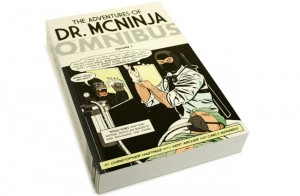 Let's keep this quick and I'll see what I can do about front-loading posts from the hotel for the rest of the week.
Do you like comics that are awesome? And do you like bargains? Then allow me to direct your attention to the Dr McOmnibus, 500 pages of Dr McNinja goodness including 24 all-new pages available nowhere else and dammit Dr McNinja creator Chris Hastings you know I'm a completist and now I have to shell out a fraction of the money I spent on the equivalent books when they came out.¹ Damn you, Chris Hastings … damn you.
BOOM! Studios Cartoon Network tie-in alert! Adventure Time and Regular Show are heading to the Greater Boston area² for this year's Massachusetts Independent Comics Expo this weekend, and they hope to see you there³:


Catch Adventure Time comic artists Braden Lamb and Shelli Paroline along with the Regular Show comic team Allison Strejlau and KC Green at the Massachusetts Independent Comics Expo! MICE 2013 is September 28 – 29 at University Hall 1815 Mass Ave. Cambridge, MA and it's free admission!

That's on the campus of the esteemed Harvard University, accessible via the MBTA's Porter Square stop.
_______________
¹ Actually, the problem is more shelf-space related than monetary. My damning stands.
² Cambridge. Anytime you see a reference to "Boston area", it always means Cambridge.
³ To the extent that non-person artifacts like comic book series can want anything.