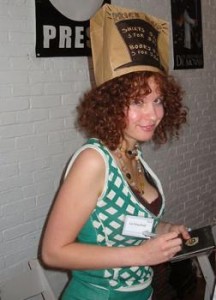 This post was going to be about the upcoming New York Comic Con's webcomics-related exhibitors, but as the floor map isn't up yet, that's kind of a useless thing to do. NYCC showrunners ReedPOP have informed me that the map should be up this week, so we'll tell you who's gonna be there then.
In the meantime, I did notice that Reed have invited a number of webcomicky types as actual guests of the show: Kate Beaton and Ryan North are Spotlight Guests (Saturday only); Chris Hastings (Saturday), Ed Brisson, Jim Zub, Lucy Knisley (Friday/Saturday), and Tony Cliff (Friday/Saturday) are Special Guests.
I'm not sure what the difference is between Spotlight Guests and Special Guests (or, for that matter, Featured Guests); my guess is that when Beaton, North, and Hastings have their panel presentation together on Saturday, Hastings will get a slightly less fancy name card and have to drink still water like a peasant while Beaton and North imbibe fancy mineral water straight from a Canadian glacier.
I'll confess, I all but lost the faith, but then on Saturday afternoon an item popped up in my RSS feed¹ that caught me by surprise: Ramón Pérez was talking Kukuburi:


it's been a wild year and half. my career has skyrocketed in various different directions. 2012 was full of promotion and travel, i was barely home, and when i was i was squeezing in what work i could to make ends meet. 2013 has been a continuation, though i purposefully cut down on travel in order to refocus on work. while fantastic it's been a blur. it seems time moves quicker and quicker as you get older and take on more responsibility.

but i wouldn't change a thing.

things are still busy, but i'm exerting more control rather than blindly riding the wave. over the past two years i've talked with many people who have expressed their love of kukuburi, and others who have pronounced it's TOD.

over the past month i've slowly begun to dust off the proverbial cobwebs as i ramp up towards kukuburi's imminent return. it's been almost two years after all. i'm not making an official proclamation of a return date, but rather to let those readers who have been patient know that i am gearing up. realistically, i'm saying early 2014. january or february is my target. [spelling original]

Let me say not About damn time (after all, Ramón Pérez has provided Kukuburi free, from the goodness of his heart) but rather Thanks. I've reconciled myself to some stories never reaching their end, but that doesn't change my desire for them. The fact that Kukuburi will get a finish is a gift and I'm grateful.

Speaking of unexpected returns, thanks to Zach Weinersmith for pointing out the return of Liz Greenfield to webcomickin':


OH MAN @lizgreenfield is doing a comic again. http://swallow.fr/

Ms Greenfield, or the John Cusack of webcomics storytelling, has been engaged in other forms of creation for some years since Stuff Sucks wrapped (with no real home left online, except for a hit-and-miss presence in Wayback Machine snapshots to September 2007), but now she's back. In her words:

Swallow is the story of a young American in Paris whose spirit animal is social networking, following a fantastical event. Grab yourself an attractive chair and hunker down.

One update so far, and I'm confident in recommending this one to you with that little to go on. Greenfield is one of the great storytellers, full of characters that can't wait to get onto the page so you can share in their lives. Bookmark it now, return MWF until the story's done.

Okay, not a return, but definitely an opportunity; I have in the past mentioned Christopher Bird and Davinder Brar's Al'Rashad, which is a very good weekly comic full of adventure, intrigue, and sly humo[u]r. It seems that Brar (the art half of the partnership) will be a bit busy in the near term, which may necessitate some delayed updates; Bird wishes to keep the comics flowing with a side-story or two, but will require an artist:


This would be a straight work-for-hire gig, moderately fast turnaround time, with compensation – not token compensation ("exposure" is not money! A few bucks per page is not ENOUGH money!) but not big-leagues compensation either. If you're interested or know someone who is, shoot me an email and we'll talk. [boldface mine]

Good on Bird for his approach to artistic partnerships — pay your artists, with money. If he finds somebody half as good as Brar, the Al'Rashad prequel stories will look fabulous, and just as importantly I'll get background on some of those oh-so-slowly-revealed characters².
________________
¹ Obsolete technology, my ass.
² Wulf! Do Wulf! My guess is he's the Rex the Motherfucking Wonder Dog of the Al'Rashad world and I want to know more about him.