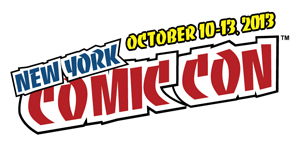 Welp, I promised you a trawl through the New York Comic Con 2013 programming, with an eye towards webcomics, and you people owe me.
For starters, this is less a comics show and more a whatever we can call pop culture¹ show, and everything goes into one, largely non-filterable list by day — TV, videogames, screenings, and autograph sessions are all mixed in with actual panel discussions. I had to wade through time & place notifications of Hulk Hogan autographing your stuff to find actual content.
Secondly, this year (at least I don't recall it from prior years) NYCC is putting in untitled placeholder sessions; I encountered at least three of these TBA sessions with no description, title, or topic, but an assurance that we'll love it. They did say that two are on the videogame track and one from TV, so let's assume they're not of interest.
Thirdly, there's a lot of stuff to work through; the preview "night" begins Thursday at 3:00pm, but programming begins earlier that day for professionals (with a number of actually interesting-looking sessions on comics in libraries and school curricula). But, chances are you won't be attending those sessions, so let's focus on what happens once the doors open to the great unwashed.
Welcome to Night Vale: The Art of Weird Podcasting
1:45 pm – 2:45 pm; 1A15
Not webcomics, but definitely indy-creator stuff. All hail the Glow Cloud.
Beer and Comics: NYCC edition
6:45 pm – 7:45 pm; 1A08
You know what? That's a real stretch, and I'm a guy that likes both beer and comics a great deal.
The Cyanide and Happiness Show!
8:00 pm – 9:00 pm; 1A10
Sweet Zombie Jesus, a webcomics-related panel! Clips, past and future episodes, Q&A.
We Are BOOM!
11:00 am – 12:00 pm; 1A01
BOOM! has a lot of webcomics types working on various projects, particularly the Cartoon Network tie-ins. Might be interesting on that basis, particularly if any of them get original projects, like the North/Paroline/Lamb Midas Flesh.
The Mythbusters Present – A Punkin Chunkin Extravaganza
12:15 pm – 1:15 pm; 1A22
Because physics and siege engines, and Grant Imahara is the goddamn man. Unfortunately, it conflicts with …
Beyond the Webcomic
12:30 pm – 1:30 pm; 1A08
At last! This is what I've been waiting for! Kate Beaton, Christopher Hastings, Ryan North, and Seth Fishman on webcomics, creative projects that aren't webcomics, and (presumably) what it's like to be totally awesome. Because Kate, Chris, and Ryan are.
The Graphic Novel
2:45 pm – 3:45 pm; 1A17
A very generic title masking potentially the must-see panel of the show for would-be creators. Indy graphic novelists in conversation with Calvin Reid of Publishers Weekly; will hopefully include a discussion of why :01 Books kicks the ass of almost the entire original graphic novel market.
Code Monkey Save World – Inside the Graphic Novel Kickstarter
1:30 pm – 2:30 pm; 1A03
JoCo and company on the Kickstartered comics-translation of his geek anthem. Also, free stickers.
Meet a Dinosaur!
3:30 pm – 4:15 pm; Family Room 1B02
Because animatronic dinosaur. Hope it's a cool one.
We'll have a list of webcomicky exhibitors in the coming days.
_______________
¹ For example, the single most-repeated item in the panels list I could find was autograph sessions with this young woman, who appears to be notable mostly for not wearing as much clothing as you or I might [MSFWDOYC]².
² Marginally SFW, depending on your circumstances.