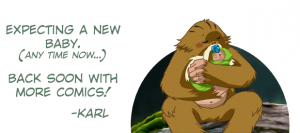 You're going to have to forgive a little slowness on my part today, as last night was EMS duty night and we got three calls back to back¹ which means I'm running on about two hours of sleep today. Let's keep this one brief.
Know who else is getting used to the idea of not enough sleep? Karl Kerschl. In lieu of a strip yesterday at The Abominable Charles Christopher, Kerschl posted an animated announcement:


Yup! Got another baby on the way! I've been working at home and waiting around to zip off to the hospital, so it's been tough to juggle the comic with life duties. I whipped up this low-rent animation as a substitute, but I'll be back soon with more real comics, concocted in a haze of sleep-withdrawal and madness.

Congrats to Kerschl and his entire family, and all our best wishes that the new little one arrives safe, sound, and with a minimum of fuss.

Also not so much with the sleep? Everybody at a comic convention, of which several are coming up in the immediate timeframe. Howard Tayler is representing the webcomics contingent at the first Salt Lake Comic Con, starting now-ish and running through Saturday; given the demographics of the area, more people are likely to be at church than a comic convention on Sunday, so it looks like the organizers acknowledged that reality and wrapped things up a day earlier than another city might.

Not that the lack of Sunday should be held against SLCC, where I see a three-day pass is a mere US$50 for adults, US$30 for kids 11-16, and free for those 10 and under. By modern con standards, that's an incredible bargain, which may help to explain the 30,000 tickets pre-sold for a con that nobody's ever been to. If the showrunners do a good job, it would be within the realm of possibility to see 50,000 tickets for SLCC 2, and suddenly there's another regional show to consider.

Meanwhile, about two time zones due east of SLC, Baltimore Comic Con is one of those established regional shows that SLCC may soon be, and will be running Saturday and Sunday. The scruffy, independent arm of comics will be represented on the guest list by the likes of Natasha Allegri, Ed Brisson, Dean Haspiel, Carla Speed McNeil, Ron Randall, and Jim Zub on the main floor, with Chris Giarrusso, Mike Maihack, Dave Roman and more grouped together under the name Kids Love Comics Artists.

Exhibitors will include Oliver Mertz and Mike Isenberg, BOOM! Studios, and for some reason the Embassy of Her Most Britannic Majesty. Artists Alley is where you'll find Danielle Corsetto, Darren J Gendron, onetime personal assistant to Dave Kellet Cari Corene, Chris Flick, Monica Gallagher, Jamie Noguchi, and the Embassy of His Most Guigarian Majesty. Oh, and about a zillion other people whose names I didn't catch on a fast read-through, and also the Harvey Awards.
_______________
¹ Actually, four, but no matter how good my crew is, we can't handle two calls that come in simultaneously.