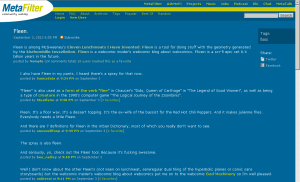 There are things afoot, mostly tangential to webcomics qua webcomics, but possibly of interest to people that read this page on a regular basis. A page which, I have been recently informed, shares a name with a number of other things also called Fleen.
Looking at primacy, it appears that the McSweeney's reference dates to early 2001, the sci-fi epic to 2008, and the tessellation tool to earlier this year. While this page in its current form began in December 2005, the name was chosen merely because fleen.com was still owned by Jon Rosenberg, it being used for the Fairly Large Electronic Entertainment Network as far back as 1999 as a portal for some webcomics creators that you may have heard of. Given those dates, it appears that this is the true scion of the Famous Original¹ Fleen and you should accept no substitutes.
Tangential To Webcomics (Performance Division): The Cartoon Art Museum in San Francisco remains a friend to comics of all sorts including webcomics, not least because curator Andrew Farago does webcomics himself. Farago and his fellow staffers are responsible for one of the busier events calendars in the Bay Area, with lots of skilled and well-regarded creators dropping by to say hi. As part of their regular Third Thursday late-night hours, CAM will be hosting the preview night of The Videogame Monologues prior to performances in San Francisco and New York.

The following week, as part of an ongoing exhibition, CAM will host a reception for the graphic novel adaptation of The Thrilling Adventure Hour. TVM kicks off at 5:00pm on Thursday, 18 September, with a suggested donation of US$5. TAH's fancy reception is a ticketed event (with prices starting at US$75, mostly tax-deductible), taking place Saturday, 21 September at 7:00pm, with snacks and drinks provided.

Tangential To Webcomics (Booze Division): September in New York City is where you want to be if you like combining comics and sophisticated adult-type beverages. The Society of Illustrators has long known how to do a reception/happy hour right, and they'll host one on Wednesday, 25 September at 5:00pm as part of their currently-running exhibition of Peter Kuper's work in their dedicated MoCCA Galllery.

Also, Kristen Siebecker (inaugural showrunner of the MoCCA Festival) continues her wine-demystification classes, with two special ladies-only workout-and-wine events next Wednesday, 11 September at 6:30pm and 7:15pm at Uplift Studios in Manhattan. Exercising off the alcohol before you drink it is the definition of guilt-free, right? For those that prefer to not moderate their sins, her regular class will be on Wednesday, 2 October at the West Elm Market in Brooklyn. This class will examine the classic pairing of wine and cheese and starts at 6:30pm.Each of Siebecker's sessions costs US$45, but you can get a 10% discount on the wine-and-cheese class if you use the code EMAIL10.

Tangential To Webcomics (Instrumental Metal Division): Jeph Jacques made goal on his Deathmøle album Kickstarter in mere hours about three weeks ago; since then his crowdfunding total has been on a steady upward crawl and it crossed the US$100,000 mark about an hour ago. The Fleen Funding Model says to use the predicted total from Kicktraq at the 24-36 hour mark as a base figure, and it's highly likely that the final total will fall somewhere between one-sixth and one-third that value.

For Jacques, that base figure was US$400,000, giving an expected total in the range of US$67K to US$134K. Permanence is solidly in that range already, and it's just a matter of how high the usual last-few-days frenzy³ carries him; it's pretty unusual for a webcomic-related project to fall below the 3.0 ratio², but if anybody can do it, it's Jacques's fans.
________________
¹ See also: Famous Original Ray's.
² Remember, lower ratios are good.em
³ Stretch goals will help, as Jacques has already drawn light porn, and now has to produce a 20 page comic for backers. One smart stretch goal in the US$120K slot and he'll have money thrown at him from now until the campaign end next Tuesday.