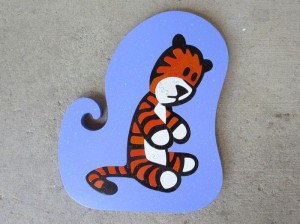 Back in April, Chris Yates (this blog's favorite Tintin¹ with a scrollsaw) celebrated nine years making Baffler!s, for a total of 2222 of the handmade wooden mental torture devices, making an average of just under 250 Baffler!s per year, or about one puzzle every day and a half. You'd naturally be curious what Mr Yates was up to in the time since.
How about producing puzzles at more than twice the usual rate, despite having weeks lost to conventions and travel?
Yesterday saw the release of Baffler!s #2499 through #2511, making 289 more puzzles in less than five months. Okay, granted, some are pretty similar and pretty simple², but some of those puzzles are fiendishly clever and complex, more than making up for the simpler ones.
Best of all, Yates was so heads-down in work mode that he didn't realize that a Big Round Number was coming up, meaning that #2500 was not one of his usual insane anniversary pieces, but rather something pretty appropriate for a guy that runs in comics circles.
That's a lot of damn puzzles, and no sign of a slowdown in sight. Here's hoping that Mr Yates keeps all his fingers and that his puzzlecutting imagination continues without pause for as long as he finds this mode of creative expression to be remunerative and to his liking.
_______________
¹ Tintin himself makes an appearance in #2499.
² Bonus points to Yates for titling these Baffler!s — and four others — with a reference to Warhol.