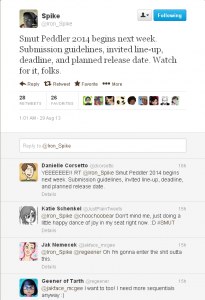 Dead water heater? Of course! Netbook bricking itself and requiring a Linux reinstall? Why not? But dammit, I'm going to tell you something today if it kills me¹.
For starters, it's another three-con weekend for fans of webcomics; you have your choice of stalking meeting your favorite creators at Dragon*Con² in Atlanta, WorldCon 71 in the guise of LoneStarCon3³ in San Antonio, or PAX Prime4 in Seattle.

At Dragon*Con you can see possibly the most aggressive cosplayers and sexytimes atmosphere of the annual con circuit — including the obligatory kilt blowing. At WorldCon you can see the Hugo Awards — or join the live stream — where Howard Tayler will either continue or break his streak as the Susan Lucci of the Best Graphic Story category. PAX Prime will feature the first reunion of Strip Search artists since the show revealed Katie Rice as the winner.

Assuming you need more than that, how about some hot, hot porn?


Smut Peddler 2014 begins next week. Submission guidelines, invited line-up, deadline, and planned release date. Watch for it, folks.

Countdown to quality, lady-friendly sexytimes? Starts now.
And I realize that I am tempting the metaphorical demons of fate itself by saying this, but I hope that tomorrow will be back to normal, just in time to slide into the long weekend here in the States. See you then.
________________
¹ It very well may kill me.
² And with con co-founder/accused child molester Ed Kramer finally going to trial — and legally separated from the legal entity that owns D*C — a shadow that has hung over the show for some years is finally lifted.
³ Who had their own kerfuffle last week, as it was noticed that they were going to be showing the largely-unseen and deeply racist Disney film, Song of the South. Questions were raised as to what context the film would be shown (it can definitely be watched in the context of an artifact of its times, with a frank acknowledgement of how poisonous much of its content is to modern eyes), as well as whether or not the film could possibly be legally licensed (Disney does not want Song to be associated with their name and has kept it locked up in the vaults for decades). In any event, con organizers nixed that idea.
4 The tenth consecutive PAX, for those counting.