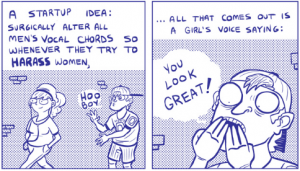 I first met Matt Lubchansky at NYCC a couple years ago via the kind introduction of one Jon Rosenberg¹ and have followed the various comics that he produces since. Much as I like the laugh-chuckles of Please Listen To Me, I find that his collaborations are even better and he's got a doozy of a collaboration with Mallory Ortberg today. I wasn't familiar with The Toast, where said collaboration is running today, so thanks to Hey Pais's Sara McHenry for the pointer.
With that buildup concluded, please go check out Tips For Improving Street Harassment because it's really smart, really funny, and makes you wistfully sigh If only.
________________
¹ Who, as a reminder, owns my soul and keeps it in his wallet. Not my first choice of soul repository, not when there are nice temperature- and humidity-controlled boxes for valuables available, maybe resting on a nice mantelpiece, but I guess that's the lesson here. You sells your soul for a dollar, you takes your chances that it'll get sat and/or farted on daily.
² Yep, that Jesus; this particular comic chosen because What's up, Lamb of Hosts? will never not be hilarious to me.
³ I, uh, may have signed a document to that effect.