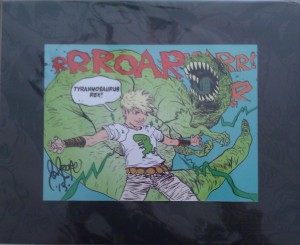 So there was a tweet earlier today from Oni Press supremo James Lucas Jones to the effect that :01 Books associate marketing manager Gina Gagliano is the absolute best, to which I responded This is mathematically provable. Before I had a chance to crunch the numbers, Ms Gagliano obviated any need for me to do so, as today's mail brought review copies of Derek Kirk Kim [Edit to add: and Les McClaine]'s Tune: Still Life and Paul Pope's Battling Boy.
But that's not all, because she also sent along a matted print of Battling Boy and a T-Rex, to which I can only say, Thanks Gina, and sorry T-Rex, you are no longer the awesomest dinosaur in the world of comics. It's gonna take some time to savor these books, so look for reviews of Battling Boy and Tune: Still Life in the coming weeks.
Speaking of the twitters, does everybody remember about a month back, when some Scandinavian webcomics types hit the road for a casual drive to Mongolia? By the next day they were hanging in the vicinity of Prague; in the four weeks since the occasional tweet and approximate location update on their progress map assured us they were still alive and unconsumed by feral animals, although details were scarce on the blog. There were four or five days of updates through to about Romania, then a jump forward to 28 July in Uzbekistan, then nothing for two weeks.

Last night (around 8:30pm GMT-4) however, the tweetstorm began:

The position map actually put them on the outskirts of Ulanbataar, Mongolia's capital. Some eleven hours later:

Finally made it to Ulaanbataar!!! Boom! First shower since Russia!

Finish line kit, we f'ing made it!! Now, three days of fun in UN, and handing in the car tomorrow :)… instagram.com/p/dCHlYXEN96/

We had to tow the UNO the last 350k, and recharge the battery every 40 minutes. Adventure!!… instagram.com/p/dCH9PMkN-e/

Amazing camp has been had, waking up with this view…. najs. #teamventure #mongolrally instagram.com/p/dCIKcZkN-m/

Finish line steak! :D @ Blue Sky Tower instagram.com/p/dCIjuYEN–/

Finish line champagne. #mongolrally #teamventure #abataarworld instagram.com/p/dCQ7BYkN4F/

That was followed by a posting of the first videos from the trip, and presumably a hearty period of sleep. Congratulations to the members of Team Venture for the safe conclusion of their adventure, along with the hope that they picked up some good drinking stories and maybe an interesting scar or two.

Expect to hear more details about the adventures had along the way, and the wagers on who the next webcomics-related team will be to brave the Mongol Rally starts … now! I'm calling dibs on a team made up of Jon Rosenberg, Paul Southworth, and any other webcomickers with three small children, just for the relative opportunity to catch up on sleep that bribing ex-Soviet border guards and dodging bears would offer.

For those looking for a comics-related adventure that involves slightly less death defiance, may I recommend Columbus, Ohio in November? The triennial Festival of Cartoon Art¹ will by coincidence be occurring about the same time as the grand opening of a new facility at the Festival's home, the Billy Ireland Carton Library and Museum at Ohio State University.

As a result, this year's iteration of the FCA should be one of the best in memory, with a murderer's row of speaking talent, an impressive-as-all-hell program schedule, and a registration cost of seventy-five bucks. Considering that registration is capped in range of hundreds², not tens of thousands, if you attend you'll be in immediate proximity to some of the greatest creators and commenters on comics alive.
_______________
¹ The last occurrence of which featured Dave Kellett's address on the changing nature of comics and a stack of interviews that eventually made it into STRIPPED. Which, why look, will be screened for FCA attendees.
² Specifically, 275. At any major comics convention, there are more than 275 Homestucks waiting in line to get Andrew Hussie's autograph.