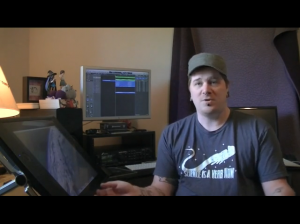 I love it when creative types are creative in more than one way, and I mean that as sincerely as I've ever meant anything in my life. Case in point: Andy Bell has more creatures, critters, robots, and things in his head than he can reasonably contain, and within the room I presently occupy, I see them in the form of vinyl toys, paintings, stickers and printed books. Were I to move to the kitchen and open the freezer, I'd see them in the form of ice cubes; somewhere upstairs is a zipper pull shaped like meat, and there are also sculptures and plushes and things that I don't own. Specialization is for insects.
_______________
¹ Literal as well. How large is Jeph Jacques? In that photo at the top of the page, the Cintiq in the foreground is the new 57 inch prototype.
² Oof, what a horrible word. Sorry for that.
³ In the original sense of the word: drinking party.