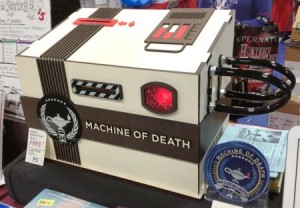 One of the things that I now recall speaking with Christopher Butcher about on Friday night over copious drinks was the forthcoming plan for a dual book launch for Ryan North (and Wm Shakespeare, and you)'s new book, To Be or Not To Be, and also This Is How You Die, edited by Ryan North, Matt Bennardo and David Malki !.
My recall was prompted by the good Mr North, who announced that the then-nebulous details are now solid: The Beguiling, the world-class comic store managed by Butcher, will host the Choose Your Own Launch Party this coming Monday, 29 July, from 7:00pm to 10:00pm in Toronto, Ontario, Canada. Two venues, side by side, will host the two books, and you can choose which is more worthy by your presence and participation.
On the North side of the party, you can engage in choose-your-own live readings from the book and Shakespeare rap battles! On the Malki ! side¹, you can get a completely accurate prediction of how you will die and play a game which is absolutely, positively, legally not Pictionary with MoD cards.
Kickstarts!
We have one that's been teased for a while from the intrepid Amy T Falcone to launch her new comic, Clique Refresh, and which — in the way of Strip Search alumni — funded out almost immediately. It's a new trend being seen in Kickstarter, pre-funding webcomics and their content for a period of time (typically a year), and hopefully seeing content at the end of that time in print.

I think that this leap of faith approach to webcomics can work where the creator is a known quantity with work you can see, looking to make a change in project (always a risky prospect, one that may lose you audience). In this way, it's in contrast from a stack of failed dead-tree-floppy comics that tried to Kickstart completely unknown creators with no body of work to judge by.

Hopefully, the latter won't try to emulate people like Abby Howard, Maki Naro, and Ms T Falcone, because while I may (have) backed people that have given me comics and want to shift to other comics, I will likely never back somebody that promises that their very first comic will be super awesome you guys even though I've never written one before and I haven't found an artist yet, trust me.

On the more traditional approach to Kickstarting — here's a production of something physical from material already produced — allow me to point you to Christopher Baldwin's third (and final, sniff) volume of Spacetrawler (getting a head start on the finishing up of the strip, which is rapidly approaching), and Tom Dell'Aringa's comprehensive omnibus, collecting the full five year run of his comic in a reworked, single-story format. If you're going to back just one surprisingly deep comedic sci-fi webcomic collection that takes place in space, you're screwed Bunky, because there's two here that deserve your attention.
_________________
¹ You have no idea how badly I want there to be a hip-hop rivalry between "northside" and "malki!side".