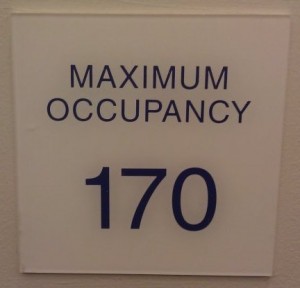 Yesterday was the day that I discovered that porn starlet Tera Patrick (who is apparently a cousin by marriage to a guy I ride EMS with) is signing on the show floor. Go Team Central Jersey.
Speaking of porn, Smut Peddler impressario Spike confirmed for me that there will be a new edition of the sexytime comics anthology next year, possibly in the spring, maybe in the summer. After that, it looks like alternating porn and not-porn anthologies, with the next not-porn project in 2015, probably on the theme of fantasy, and much like The Sleep of Reason will be restricted to no cliches: TSoR said no vampires, no werewolves, no zombies, and Untitled Fantasy Anthology will say no elves, no dwarves, no Tolkien analogs. In a decade or so of alternating anthologies, we should be able to finally quantify how much people like porn compared to other entertainments.
Speaking of forthcoming print projects, I got to speak to Evan Dahm about his first Vattu collection, The Name and the Mark; Dahm's happy to report that the book is at the printers, and well on the way to release in October. In fact, he'll have a limited number of books to debut at SPX alongside his Midnight Monsters collaboration with Yuko Ota, The Exquisite Beast. SPX is a good book-buying crowd, and having debuts ought to drive a lot of commerce for Dahm, so that's all right.
Speaking of Yuko, she and Ananth Panagariya got a nice mention at the Adventure Time Comics panel, seeing as how their Candy Capers miniseries launched last week; BOOM! editor Shannon Watters gave us a some advance details of the next couple of issues, as Peppermint Butler pairs up characters as the new heroes of the Candy Kingdom in Finn & Jake's absence. The next issue will feature Tree Trunks and Marceline as partners, and the issue after that will partner up Lumpy Space Princess (!) and Lemongrab (!!).

The bulk of the panel was a discussion of the creative process of Braden Lamb, Shellie Paroline, Ryan North, and Meredith Gran, their approaches to all-ages comics, and their best jobs at doing the voices in live readings. North, Paroline, and Lamb were of course fresh off their Eisner win, so it's no surprise that in a room that allowed 500, there were few empty seats, and the audience was predominantly there for the current panel, not squatting in the room for some later panel; the wealth of cosplay (especially on younger kids) was proof of this.

Watters also let us know that there will be another Adventure Time graphic novel penned by Danielle Corsetto and drawn by Zach Sterling; the theme of the series is pretty quickly becoming princesses go on adventures, as the new book will feature LSP facing trials (maybe) and tribulations (possibly) and saving the world (probably not). But hey — one of the messages of Adventure Time is that we can all be more than we appear initially, even spoiled princesses from Lumpy Space.

In the main Adventure Time comics, the next issue will wrap up the current story arc (it features Jake stuck in a dream existence with a stretchy-powers Finn!), and the one after that will be a Princess Bubblegum-centered story. Peebles stories often feature her need to control and manage everything (from her kingdom to the fundamental forces of physics) and how her messing with Things That Should Not Be Messed With have consequences, but they aren't usually taken past the end of the episode.

Prubs is a genius, but she also pretty damn irresponsible with her mad science and her creations are idiotically dangerous as often as they're helpful. In this new story, PB goes off the rails and actually has to deal with one of these things that she's responsible for rather than foisting it off on Finn and Jake.

The Q&A section had time for ten questions, and the first was from a boy maybe ten years old that wanted to know if Ryan knew about a webcomic called Homestuck and does he use it for inspiration?, particularly because of one Homestuck-referencing quote that North snuck into a recent issue. He was apparently unaware that Ryan and Andrew Hussie are credit card bros, and Ryan told the young gentleman that Everything I write is Homestuck fan-fiction. The seriousness of the exchange was honestly charming, as was the number of kids in the audience that had brought binders full of their Adventure Time-themed drawings, eager to show them to the comics creators.

After the session I got a chance to chat with Braden Lamb, where we immediately fell to talking about Kitty Hawk, his long-hiatused adventure webcomic project with Vincent LaBate. On the one hand, Lamb would love to get back to Kitty Hawk, on the other other, BOOM! projects keep him busy to the point that an ongoing webcomic isn't practical. A complete story might be a possiblity, but with the releases of stories like Delilah Dirk and Lady Sabre, the market may be a bit crowded, even for a story that predated the others.

We also spoke about the challenges that Lamb and Paroline had producing the Choose Your Own Adventure Time issue that North penned a while back, making the choices easy for kids to follow, but not so obvious that you could cheat your way to the desired outcome; it probably helped a lot that North has some experience writing such stories, but the best contributor to the success of that issue was probably Lamb's choice to do some color-coding. Future artists/writers of such stories, take note.

Speaking of Andrew Hussie, I saw the initial start of the ShiftyLook panel referenced yesterday, and I owe the SDCC showrunners an apology. I very much doubted that the maximum capacity of 170 in room 28DE would be sufficient for the presumed crowd o' Homestucks that would descend upon Hussie like unto a tsunami, and it turned out that they fit just fine; there was a minimal line outside the room prior to the panel, but a pretty healthy population of fantrolls were already in there for the prior panel¹.

The panel discussed the Zach Weinersmith²/Dave Shabet collaboration (interactive DigDug), the previously-announced Andrew Hussie-penned MMO (NAMCO High, available pre-holiday, 2015), and the Kris Straub/Scott Kurtz Mappy series (first episode goes live tomorrow).

Speaking of room 28DE, it would later host the STRIPPED panel, which managed to fill the room despite being scheduled at the late hour of 7:00pm, against large media screenings, ramp-up to industry parties, and pre-Masquerade prep. I have nearly 1500 words of notes that need to be whipped into shape, so let's put that off for another post. But speaking of STRIPPED, yesterday I learned that co-director Fred Schroeder's agent is from my town, despite his currently agenting in the nearly polar opposite of LA. Go Team Central Jersey.
Below the cut, the best cosplay photos of the day: Simon Petrikov and Hello Randy.
_________________
¹ The prior panel, on LGBT-centric publisher Prism Comics, would have a reasonable amount of overlap with a Homestuck audience, I think.
² Speaking of Weinersmith, we also had a chance to talk about the forthcoming Starpocalypse series, and he was able to assure me that James³ does die once or twice, although it appears that he doesn't explode. This is both good news and bad news.
³ That would be James Ashby, history's greatest villain.