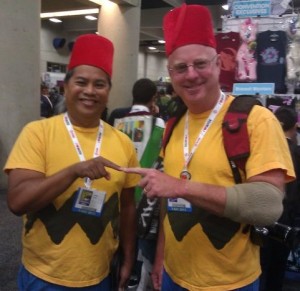 The City of San Diego must rotate which of its fire stations respond to emergency calls; Engine 4 has been dispatched a half-dozen times or more since I left the convention center at the end of Thursday's show hours (a significant amount of this period coincided with when I was trying to sleep), a situation that I don't recall occurring in the previous days. Let's do this.
One of the things that gets lost in Comic Con is interaction at the personal scale; even when the crush of the day is done and you aren't surrounded by thousands of attendees, the desire to catch up with every friend, don't waste a minute of time, where can twelve people get dinner together is strong. I got away from that tendency at several points during the day, taking the opportunity to talk to just one person:
I didn't make it to any panels, but today I expect to see the Jim Zub panel on pitching creator-owned comics, which unfortunately starts at the same time (11:00am) as the This Is How You Die autograph session, so I'll likely be a little late. By the way the TIHYD autograph count now stands at seven total, having added Ryan North, David Malki !, Becky Dreistadt, Aaron Diaz, Tyson Hesse, and Kris Straub).
Below the cut, the best cosplay photo of the day: Dr Venture and Pete White.