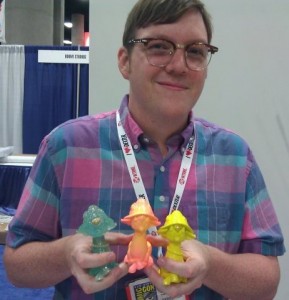 Or, I suppose I should say, front load waste container-emptying truck since This Is How You Die has taught me that Dumpster™ is a trademark of Dempster Brothers, Inc. Thanks, TIHYD! Speaking of which, my TIHYD autograph count now stands at 1, Meredith Gran, who illustrated ROCK AND ROLL. I should also note that the first copies of To Be Or Not To Be are available at the TopatoCo book and a lovely fellow brought one by to get Meredith (and Jon Rosenberg's) autograph, and one of Meredith's two illustrations is for the ending where (spoiler alert!) Ophelia just starts killing the crap out of everybody until half of Denmark has personally been murdered by her and it is hilarious.
Speaking of Ms Gran, I asked about her Gender & Comic Books panel, later today at 1:00pm in room 28DE and it turns out she never agreed to be on this panel and is trying to figure out why the heck she's listed as a participant. I'll be double-checking with her to determine if she's going to participate, but at this point I'd kind of doubt it.
Still at the Dumbrella booth, Rich Stevens has two samples (one hardcover, one softcover) of his Oni Press reprint collection, I'm A Rocker, I Rock Out (the first of a series of themed collections — this one focuses on Indie Rock Pete[r Gaylord Wiener]), and they are beautiful to behold. It's my understanding that Oni have a limited number of copies of the collection at their booth, in the 1800 aisle, underneath the giant hanging banner that features Red Robot.
The endlessly cheerful Kazu Kibuishi looks good; this time last year he had a health crisis that came pretty close to killing him, but he's bounced back. I've known people to have faced bad health situations and subsequently fall into a never-ending cycle of worry about what goes wrong next; Kibuishi has decided to be happy.

He's happy to be working, happy to see the positive reactions to the Harry Potter book covers¹ he's done (the latest gets released today), happy that he got to do back-cover images for the books², happy to be working on Amulet again, happy to see his kids growing up healthy and safe. He hopes to finish Amulet 6 by December or so (print lead times meaning we may see it in a year or so) and is working out ideas for volume 7 and beyond. At this point, there's no limit to the series and he is full of stories to share; after knowing that he is well again, that's the best possible news.

As mentioned earlier, Kibuishi is sharing booth space with Gallery Nucleus, Olly Moss, Scott C, various Flight contributors, and the entirely adorable Becky and Frank at the back of the 2700 aisle.
Becky and Frank have a limited number of a new resin toy (see photo at top) at their booth (sharing with ) in multiple colorways, and the possibility of vinyl later. They've also got a gallery show (arranged by Nucleus) in Pasadena that is launching near the end of the month, a show that will see Becky's work shelved alongside Dr Suess originals. Details aren't released yet, so keep your eyes open on that one.
Back in Webcomics Central, there's a lot of people thrilled by their recent/ongoing Kickstarter successes: Sam Logan, Evan Dahm, Kris Straub, Aaron Diaz, David Malki ! (who has an actual Machine of Death, ready to predict your demise), Ryan North — taken together they're responsible for something on the order of US$2.5 million of creative commerce.

Speaking with Make That Thing Benevolent Dictator For Life Holly Rowland, we ballparked an estimate that MTT may hit US$1.5 – 1.6 million of project shepherding in 2013, their first year of operation. While we were having that bit of conversation over booth construction, the hardest working man in comics, Jim Zub wandered by and we were able to talk about Samurai Jack and Skullkickers.

With respect to the former, it's hopefully going to be an ongoing title, not just the five-issue limited that's been announced. As Zub put it If they keep buying, we'll keep making it. He's excited about the storytelling and visual experimentation that Jack (which was experimental on both counts) will lend itself to, and noted a model for a five issues/one issue production pattern (much like Skullkickers, which consists of five issue story arcs, followed by one issue of guest short stories) that I'm not entirely certain I'm allowed to share right now, so let me just say that you want this 5/1 model to come to fruition. You don't even know how much those 1s will rock.

Speaking of Skullkickers, the fourth story arc just wrapped, the fourth guest issue is on deck, and Zub is busy working on the fifth arc (we've seen the basic sword/sorcery arc, the urban intrigue arc, the pirate arc, and the jungle arc; this one will be the frozen north/viking/barbarian arc). He's hoping to mostly get the two remaining arcs (the sixth will be … the kitchen sink, throw everything in there, find out what the hell has been going on …) done in 2014, which means that 2015 can be the wrap-up tour, comprehensive omnibus collections for everybody, and letting the next project (there's always a next project with Zub) come to the fore.

If the timing works out right, the online MWF reruns of Skullkickers will catch up and finish about the same time the last issue sees print. That's not only a neat way to wrap up the project, it may be a necessity: Zub's primary artistic partner, Edwin Huang, has been getting a lot of inquiries and requests on various projects, and may be very busy if Zub doesn't get him on the remaining issues quickly. Dang, good work leading to attention and more work — doesn't suck.
________________
¹ The request to do the covers came along at a time when after-effects of his illness made writing difficult, but drawing was still possible.
² He had an image that he really loved for Harry Potter and the Goblet of Fire but was perhaps too subtle for the cover; he offered to rework it as a back cover image, and it worked so well that he continued the experiment for the other six volumes.