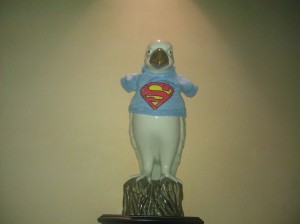 It's the little touches that you notice, the ones that say I'm paying attention, like turning a piece of wall art into an impromptu superhero in a classy, understated way. Well done, San Diego.
For those of you in (or coming to) San Diego, you now have one more thing that you should include in your to-do list: on Friday morning at the Hachette booth (#1116, around the corner from Webcomics Central), there will be a This Is How You Die signing, with eight of the writers and artists from the book in one place for your convenience. Additionally, there will be another eight contributors on the show floor at various places and times, a checklist of which David Malki ! has helpfully provided for you. One possible correction to that checklist: it has Braden Lamb at booth #2734 and he may in fact be at booth #2235 due to the previously-mentioned Great Booth Swap of Aught-Thirteen. I'll check around today and get back to you on that.
Speaking of booth #2743, Scott C will be there, and you may want to ask him about something cool coming in October. The only thing that could make a second volume of Great Showdowns better is if it included the amazing Pacific Rim Showdown from yesterday, but an October release date means these books are already in the printing pipeline. Oh well, guess that means that there will have to be a third collection in a year or so. Darn.
Finally, those of you looking past the end of SDCC and who will be in New York in a couple of weeks, and are sick of the extremely hot summer already, Kristen Siebecker has announced her latest learn to drink the good stuff class, this time on the topic of pairing wine with warm-weather foods. You get booze, you get snacks, you get a convenient new location at the West Elm Market in DUMBO, Brooklyn, you get 10% off the class with the code EMAIL10, and 15% discount in the market after the class. August 7th, 6:30pm, at 50 Washington Street in Brooklyn.
For the rest of the week, expect postings throughout the day, as often as I can make them happen.