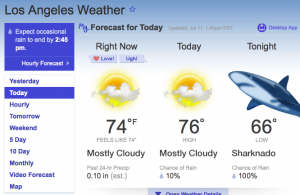 Of course, there are storms, and then there are storms, and terrifying as your basic sharknado is, I'm not sure that it's actually scarier than the five-day pop-culture death-march that is San Diego Comic Con, which will be kicking off a little more than 120 hours from now. We've mentioned who's going to be there, where to find them, and what panels to attend, so all that's remaining is getting everybody out to SoCal and preparing for the onslaught.
Actually, one last clarification regarding SDCC exhibitors is warranted: What Pumpkin, the business arm of Andrew Hussie's personal brain fancies, is in fact going to be there. I had no luck finding them in the exhibitor lists, but that's because I didn't read between the lines carefully enough in the ShiftyLook offsite announcement. Not only will Andrew Hussie be doing autograph sessions at the Gaslamp Hilton terrace, What Pumpkin will be engaged in acts of boothing there.
---
For those looking for things to do after the Great Westerly Nerd Migration, The Toonseum just announced that their third annual specialty beer has reached fruition: the 2013 edition of Illustration Ale by Pittsburgh's East End Brewing Company is a bottle-conditioned Belgian-style ale, limited to 1500 bottles, with six different labels from local Pittsburgh artists.
East End Brewing and the ToonSeum will unveil the 2013 Illustration Ale with a special tasting session at the ToonSeum on August 3rd. Guests will not only get the first sips of the special brew, but will also be able to meet past and present label artists, have their bottles autographed, and enjoy the current exhibit, 65 Years of Legends: Six Decades of the Reuben Awards.
Tickets to the tasting are $25.00 and include one free bottle of from the artist of your choosing; fun times start at 7:00pm.
---
Final note before we call it a week: Fleen's domain shift will take place over the weekend, so if you can't find us, give DNS a chance to propagate and maybe clear your browser cache. If you find any problems in the new site, let us know in the comments. We already know about the following:
The mail form on the contact page needs configuring.
Ditto the RSS feed (we'll let you know when it's time to resubscribe).
Images associated with posts before the end of August 2008 won't be there; this isn't associated with the server shift, I noticed it on the old server as well. As near as I can tell, the images are all still in the media library, but the HTML code that includes them in the appropriate postings is gone from the database. I expect that I'll have time to recreate those approximately never.
That's it. Enjoy your weekend, and see a whole mess o' you next week.