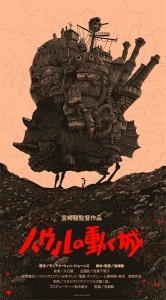 The inestimable Scott C dropped a tweet this afternoon that may save a lot of confusion for those attending SDCC 2013 next week:
Booth change for #SDCC! @gallerynucleus will be #2743! i will be there with the gang… @ollymoss @sirmitchell @boltcity @beckyandfrank
Going back to our floor guide, it's more than a case of just shifting around a couple of booth numbers, because Booth #2743 was already occupied by BOOM! Studios, which is now listed in the SDCC Exhibitor Guide as now being at Booth #2235, which was formerly occupied by … Gallery Nucleus.
Everybody got that? Gallery Nucleus and BOOM! have swapped places. Changes have been made to the earlier posting.
Speaking of Olly Moss (who will be part of the Gallery Nucleus/Bolt City group in their new home), a lot of his work is done for Mondo, the in-house art gallery/design shop of Alamo Drafthouse¹, who will be situated at Booth #936 on the show floor. Mostly I'm mentioning this because that's where you'll be able to see the work of Moss and his fellow designers, retro-styled posters for movies that put the actual work of studios to shame. Seriously, check out Moss's take on Spirited Away and tell me you don't want to live inside that image.
In less SDCC-related news, webcomics seem to be making themselves known in quiet ways.
On the one hand, the Humble Ebook Bundle II [link good for the next six days or so] is halfway through its two week run, and today announced four new books for those that pledge more than the average amount (presently sitting at US$10.24). Two of the four are xkcd volume 0 and the first Machine of Death anthology.
On the other hand, WordPress today released an official theme just for webcomics; dubbed Panel, it features a mechanism for strip publishing, strip-related blogging, archiving, and integration with social media channels.

It's still too soon to tell if it will overtake the excellent Comic Easel plugin from Phil "Frumph" Hofer³ which focuses on functionality inside any theme; like so many other things, it will likely come down to ability vs ease of use. Those that host their comics at WordPress.com will probably find Panels to be a simple approach; those that run their own WordPress installations and like lots of rich features — and are willing to do more of the work themselves — will find that Hofer's toolbox lets them build interesting and powerful things.
_________________
¹ Possibly the greatest movie theaters in history, Alamo Drafthouse also sponsors Badass Digest² and promulgates what is definitely the greatest theatergoer behavior code in history. [A/V, NSFW]
² Who in turn run the work of possibly the greatest living writer on film, Film Crit Hulk.
³ Hofer has been very kindly aiding me in figuring out how to migrate Fleen to its new hosting for the past week; he is generous with his time and knowledge, and I can vouch firsthand that he knows what the hell he is doing and if you're anything like me, he will save you days of flailing about and trial-and-error. And since time and knowledge should be rewarded, I clicked on the button marked Donate and sent him an amount equal to the value of the time he saved me.