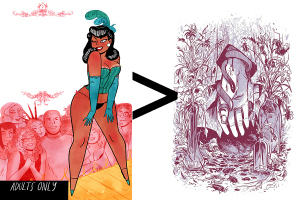 We've mentioned a lot of webcomic-centric people and events at SDCC 2103 over the past week or so, and there's still things to mention.
ShiftyLook's off-site events include hours-long Andrew Hussie autograph sessions (Thursday 4:00pm; Friday 3:30pm; Sunday 1:00pm); livecasts with Chris Hastings, Ryan North, and Alex Culang (Thursday 7:00pm), Rob Paulsen and Scott Kurtz (Friday 7:00pm), Zach Weinersmith and Jennifer Hale (Saturday 7:00pm); and spotlight sessions on Mappy with Scott Kurtz and Kris Straub (Saturday 6:00pm) and Wonder Momo with Jim Zub and Erik Ko (Sunday 12:30pm).
The creators behind SMBC Theatre, Cyanide and Happiness, and other video chucklemongers are going offsite for an evening of japery, lessons learned, and sneak peeks. No Laughs Allowed is sponsored by Callback Comedy and will take place at Reading Cinemas Gaslamp 15 Theater on 5th Street, Saturday at 7:00pm. Get yer tickets now.
For the third year in a row, Tr!ickster will be providing an offsite space for creator-owned stuff to not be lost in the hell of giant media conglomerates. They're going to be at East Village Tavern Bowl, about eight blocks from the convention center, from Wednesday afternoon to Sunday.
For those trapped on the con floor and feeling all desire for continued existence slipping away, [Adult Swim] may actually have a solution for you. Yeah, yeah, panels, famous people, etc., don't care. Here's the good stuff:


Fans can also stop by the Adult Swim booth #3721 to enjoy free mini massages and a place to escape from the hectic pace of the convention floor. [emphasis mine]

Oh man, what if they had a little dark, sound-insulated room with comfy couches? That would rule.
In other news:
Question of the Ages: Just how much do people like porn? Possible answer, going by the relative amounts raised by the Smut Peddler (porn) and Sleep of Reason (not porn) Kickstarts, run by the same person and featuring many of the same creators: the porn raised US$83,100 and the not-porn raised US46,925, meaning that people preferred porn by a ratio of approximately 1.77:1.

Another way to look at things? Using the same more-money-raised-means-bigger-bonuses-for-creators scheme, porn makers got paid an extra US$650 to not-porn makers getting US$300 or a 2.17:1 incentive the next time your favorite creator is wondering what the next project should be.

Finally, a quick note that Fleen should be completing its transition to new hosting this weekend; if you notice anything broken, you can be sure to let me know. Also, I'd like to thank Brad Guigar for putting up a WordPress Newbies Guide today at Webcomics Dot Com … after I'd learned most of his lessons through trial and error. Great timing, Brad!¹
_______________
¹ Awww, like I could be mad at him. C'mere, Brad, give me a hug.