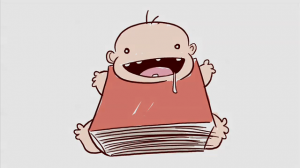 Did you see the Friday and Saturday SDCC programming notes I posted yesterday? Because you totally got a weekend posting out of me. We'll get to the Sunday programming down below, but first let's get some other things squared away.
Book Thing The First: Howard Tayler¹ has opened pre-orders for his ninth collection, Schlock Mercenary: The Body Politic. Tayler's comics always deliver highly on both the print quality per dollar and laugh-chuckles per dollar scales, so give 'er a look.
Book Thing The Second: David Malki !, Ryan North, and Matt Bennardo are aiming to make a whole passel o' people official New York Times #1 best seller authors. Much like how the first collection of the Machine of Death became the #1 seller on Amazon and gave Glenn Beck a sad, This Is How You Die is aiming to front-load sales across all distribution points to debut in the Times in the top slot. Let's let North give you the details:


This will be especially awesome since, like the first volume, this will be the first publishing credit for most of the authors in the book. We honestly don't know if this idea is possible. But we know it's possible to try.

Every sale from today onwards counts towards our NYT status. If this book at all interesting, and you think you might like reading inventive and memorable stories curated by a dude whose comics you like, then why not head over to Amazon.com (or .ca or .co.uk) and get the book? They've got it on sale for 30% off retail. [emphasis original]

On top of that, publishers Grand Central Books have released a sweet, hilarious, mayhem-filled book trailer video that nicely explores the premise of the titular Machine and especially the fact that it has a cruel sense of humor. I liked the fourth segment (TIME TRAVEL) best because of an especially good twist, but you can decide for yourself after viewing².

Book Thing The Third: Sam Logan launched a Kickstart about four hours ago to fund the printing of what may be the largest webcomic collection to hit paper so far — a 1500+ page omnibus edition of the first seven years of Sam and Fuzzy. Naturally, in that time he's hit 58% of a relatively hefty US$27,000 goal (those 1500+ page omnibii don't come cheap), which should surprise exactly nobody.

What is a bit surprising is the rather high per-backer pledge, which as of this writing sits at US$115.14; granted, some of that is because the basic version of the omnibus is gonna set you back US$49, with increasingly fancy versions at US$69 and US$95, but all of those fall below the average.

Nope, the average can only be explained by the highly-personalized rewards (custom avatars and portraits) available at the US$160+, and the already-claimed tiers that promise original production artwork (US$750 and US$850). Lessons to draw from Logan's campaign include:

Big, exciting projects capture the imagination
Having a backlog of demand for never-before printed material is good
One-of-a-kind rewards will elicit a siren song whose chorus is Give me money
If you're going to have to send a bunch of books that weigh 3 or more kilos, it's a good idea to have Make That Thing in your corner

In fact, I'll make one last observation here about Make That Thing (a division of TopatoCo) from their announcement³:

After Kickstarter backers receive their rewards, the softcover books will be sold online through TopatoCo, who are fortifying their warehouse's foundations this very moment.

TopatoCo is the United States' third-largest publisher of independent comics products. Based in Easthampton, Mass., TopatoCo creates books, apparel, gift items, and novelties for over fifty of the world's most popular web-based creators.

Did you catch that? TopatoCo is the United States' third-largest publisher of independent comics products. I'm guessing that the first two have names like Top Shelf or Fantagraphics, and what's more TopatoCo does far more than just printing comics. The scale of it all is a little boggling.
---
Sunday Programming
Funky Winkerbean's 40th+ Anniversary
10:30am – 11:30am Room 8
I was going to list this solely to ensure that Chris Sims wouldn't miss it, but sadly he tweeted this morning that he has a conflict. Even when he's not reading the strip, Sims is crushed by the despair of life conspiring against him.
How and Why to Write a Great All-Ages Comic Book
11:00am – 12:00pm Room 28DE
By the time Sunday rolls around, you start to see some repetition in panel topics especially considering that this day's programming skews towards kids. But you'd be a fool to pass up the chance to listen to Andy Runton, Jimmy Gownley, Katie Cook, and more.
Faith Erin Hicks in Conversation with Jeff Smith
11:30am – 12:30pm Room 8
The appeal should be self-evident.
Shattering Convention in Comic Book Storytelling
1:30pm – 2:30pm Room 23ABC
The title disguises the intent a bit — it's about how there can actually be comics characters that aren't white guys. Features Brandon Thomas, Gene Luen Yang, and Gail Freakin' Simone.
Keenspot 2013: Red Giant Expands to Consume the Earth
2:00pm – 3:00pm Room 4
Wouldn't be Sunday at SDCC without the Keenspot panel.
First Second: Gene Yang and Paul Pope In Conversation
3:30pm – 4:30pm Room 26AB
The title says it all; it's a shame it's been shuffled off to nearly the very end of the con when people are honestly thinking about getting home (if they haven't thrown in the towel already).
Get Comics Anywhere
4:00pm – 5:00pm Room 28DE
Tablets and phones — are you making your comics look good on them? Why the hell not?
_______________
¹ As far as evil doppelganger's from a parallel universe go, he's the best I could have hoped for.
² Other deaths: OLD AGE, PARACHUTE FAILURE, HOT GIRL, BEAR.
³ I would have written up this Kickstart regardless, but the announcement from MTT Public Affairs Supremo Sara McHenry is a work of beauty and it seems a shame not to share it.