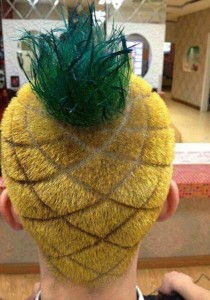 As much as I said that I wanted every Artist on Strip Search season one, after my beloved Hurricane Erika bowed out I was really pulling for Maki Naro. Maybe it was his whole-hearted adoption of the pineapple motif, maybe it was his comic's embrace of science, maybe it was the magnificent facial hair¹. His pitch in the finale for Sufficiently Remarkable, a nature show about humans in their natural habitat, just resonated with me, as did the knowledge that we have the same taste in dive bars.
As was entirely inevitable, Naro has launched the Kickstart to get Sufficiently Remarkable off the ground² and as was entirely inevitable cleared his goal in about 12 hours and is (as of this writing) about 160% of goal approaching the 24 hour mark. Applying the Fleen Fudge Factor³ to the Kicktraq prediction puts Sufficiently Remarkable in the US$42 – 84K range, but that doesn't account for the pull of the higher stretch goals:
| | |
| --- | --- |
| $90K | Fine, I'll get the Strip Search tattoo. You get to watch! |
| $95K | Maki will show up at Pax Prime with a pineapple haircut. |
| $95,100 | That was a terrible idea. Maki will shave his head at PAX. The beard stays, you go. |
| $100K | Mr Gorbachev, tear down this beardwall! It all goes. All of it! |
How cruel will Naro's followers be? Hopefully, either US$95,099 or more than US$100,000 worth of cruel.
Names are being added to the Official SDCC Webcomickers List, but to summarize them here:

In fact, let's expand on that ShiftyLook off-site piece a little, because they're going to have a mountain of webcomickers at the outdoor deck of the Gaslamp Hilton, including (in no particular order):

There will also be the ShiftyLook freeplay arcade games, music at night, fun times for all, and some panels over in the convention center. Check out the ShiftyLook page for details (and the SDCC event schedule once it goes up).

If you are going to SDCC and you skip the Sunday-night parties, or if you aren't going to SDCC and are looking for something on TV on a Sunday night, FOX is giving Axe Cop a primetime preview:


Tune in to the special primetime preview of ANIMATION DOMINATION HIGH-DEF, featuring AXE COP (9:30-9:45 PM ET/PT) and HIGH SCHOOL USA! (9:45-10:00 PM ET/PT), on Sunday, July 21. In the "Night Mission: Stealing Friends Back" episode of AXE COP, badass crime fighter AXE COP heads out on a special night mission with the help of his partner, FLUTE COP (Ken Marino), and sidekicks GREY DIAMOND (guest voice Rob Heubel), ARMY CHIHUAHUA (guest voice Giancarlo Esposito) and LIBORG (guest voice Tyler, the Creator), when fellow superhero BAT WARTHOG MAN's (guest voice Vincent Kartheiser) friends go missing. Then, in the "Bullies" episode of HIGH SCHOOL USA!, upbeat and super-positive teen MARSH MERRIWETHER (Kartheiser) learns a valuable lesson when his best friend is accused of bullying. Meanwhile, CASSANDRA (Mandy Moore) gets ready for the "It Gets Better After High School" high school dance.

Weirdly, nowhere in the entire press release is there so much as a mention of Nick Offerman as the voice of Axe Cop. Bizarre.
_______________
¹ Everybody's talking about the "beardwall", but come on — dude's got a 'stache worthy of respect.
² Not to mention financially buffer his shift from "day job plus comics" to "leave the day job and make a go of it in comics".
³ Look at the Kicktraq prediction somewhere around the 24- to 36-hour mark and the final tally will be between one-sixth to one-third of that prediction. But counterexamples abound!