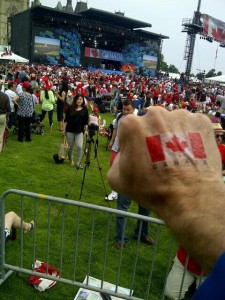 Happy Canada Day; what with another national holiday in a few days, it's pretty quiet which makes it a good to day to note some few items of interest. First, I have a brief story to share with you.
Once upon a time Jon and Phillip shared an apartment in Manhattan and a pair of barstools at the Peculier Pub.
That was the first sentence I wrote in a summary of all that had happened in the electronic pages of Goats (and good glob, that was more than seven years ago … the time, she does fly); the site is in the between-places now, but if you like you can find it in the Internet Archive. Jon being Jon Rosenberg, as responsible as anybody for my being in a position to inflict my opinions upon you lovely people, and Phillip being Phillip Karlsson who for most of the history of Fleen served as the more-or-less publisher by virtue of the services provided by Dumbrella Hosting [link likely to be dead soon].
As is its wont, time has brought changes and Phillip has closed up Dumbrella Hosting; along with this mostly-daily indulgence of me, Phillip provided services for a number of webcomics most well-known creators as well as a good chunk of the code that managed their comments and stores. This may be a good time for you to peruse those links, make sure you have the latest addresses¹, RSS feeds, and suchlike³.
On a personal note, I'd like to thank Phillip for all that he did for Fleen (which is to say, me) for most of seven years. He insulated me from the costs and efforts of keeping what is ultimately a hobby running, and with an uptime that would be the envy of any IT department; I can literally count on one hand the number of down hours the we at Fleen suffered over the better part of a decade.
Jon Rosenberg is very kindly offering me space on his server, and in this way the Ciiirrrrrcle of Life is completed and I return to where I started. If, during the transition phase and after, I prove to be less adept about making everything work than was customary in the past, offer your thanks to the powerful looking man with a chair meant for malefactors, and let me know what's broken.
From Christopher Baldwin: the end of Spacetrawler is rapidly approaching, and he's got a couple of questions for his readers regarding what comes next:


As I wrap up Spacetrawler, and am developing the strip which will replace it, I am planning to stay in the Sci-Fi genre. I have received a lot of praise for doing sci-fi in both a funny and respectably-true-to-genre way.

What I want to know from you all is: what I can do to do it even better? If there is anything you'd like to see me weave in more in the new project let me know. Also, if you know of any bloggers/podcasts/critics/etc who focus on sci-fi, I would like to write some of these folk to do regular sci-fi critique and ask them the same thing, so let me know who you look to for that kind of info.

If the new comic is even half as good as Spacetrawler (and I have no doubt it will be much better than that), it'll be worth your time from Day One. Watch this space for more information.

Last minute notice! KC Green has been summering in the ancestral land of his people and will be having a public event before returning to the (given how this summer's going, only slightly) less tornado-prone climes of Western Massachusetts. Specifically:


This Wednesday July 3rd, I am doing a last minute signing at Atomik Pop in OKC at 3pm til 6pm for the Regular Show comic books! I will only have RS issues 1 and 2 on my person, nothing else. Very last minute stuff, but you can still come by and say hi!

Tell KC that we said hi.

Latest updates have been made to the webcomics exhibitor's list for SDCC 2013. Enjoy.
_______________
¹ For example, Brad Guigar² is now preferring www.evil-inc.com to www.evil-comic.com
² He's dreamy.
³ We at Fleen are concentrating first on ensuring the blog is good, then we'll worry about feeds, re-hosting email, and such. Please be patient with us.