Bow howdy, that is one big building [PDF]; fortunately, like previous years, there's a pretty decent clustering of webcomics and their natural allies, so read on down into the sections below to figure out where the heck people are gonna be. Please note that all the information given is what I could confirm at press time, and as more information becomes available I will update or correct this page.
Low Numbers
Let's start over to the right side of the map, which is vaguely northish if you're feeling all geospatial. It looks like this: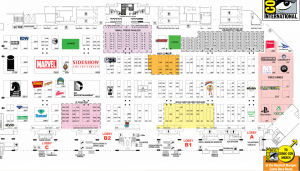 The Webcomics, Small Press, and Independent Press Pavilions are all reasonably accessible from the "B" lobby. Let's break 'em down.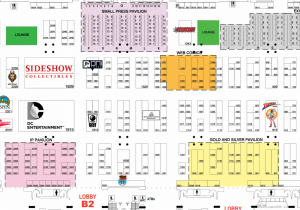 Webcomics Central
Centered roughly on booth #1332, you'll find a majority of the webcomickers who will be at the show within about a 1.5 aisle radius; some are slightly outside the orange area, but unless there's another Homestuck lineup stretching back to the 700 aisle¹ it shouldn't be too difficult to get around.
Notes:
Blank Label will be David Willis and others to be confirmed.
Randy Milholland and Joel Watson will be with Blind Ferret.
Dumbrella will include Andy Bell, Meredith Gran, Jon Rosenberg, Rich Stevens, Chris Yates, and me.
Halfpixel will be a solo Dave Kellett.
Monster Milk will include Evan Dahm, Tyler Hutchinson, and Zach Marcus, with the odd appearance by Becky & Frank.
Penny Arcade will be in Australia for PAXAus and are letting other use their booth; I have confirmed that their booth plans were set months ago and although it would be awesome, there will not be a bunch of Strip Search Artists there, darnit.
Kris Straub will be at the PvP booth.
TopatoCo boothers will include Brandon Bird, Aaron Diaz², Christopher Hastings, Tyson Hesse, Sam Logan, David Malki ! and Ryan North.
Small Press
Right by the Webcomics section is Small Press. Here you should find:
From the Small Press section, you're close by:
Notes:
Gallery Nucleus/Bolt City will feature Becky & Frank, Kazu Kibuishi, Scott C, Olly Moss, and Mike Mitchell.

Their booth assignment has switched to #2743, location described two paragraphs below
Now head back toward the "B" Lobby into the Independent Press area and you'll find Unshelved in Booth 2300 with special guest Zach Weinersmith. Head towards entrance B2 in particular and you'll be right next to Axe Cop at Booth 1603.
For the other places of note, we'll have to go back to that larger map of the northern half of the exhibit hall. Wedged in between the Marvel and Image megabooths you'll find Keenspot in Booth 2635, and between Image and the back of the hall you'll find BOOM! Gallery Nucleus/Bolt City See below at Booth 2743, where I imagine some of the many contributors to the Adventure Time, Bravest Warriors, and Regular Show will probably make an appearance or two. Confirmed appearing at the BOOM! booth are Shelli Paroline & Braden Lamb.
BOOM! Studios has shifted to Booth #2235, location described in the "close by Small Press" section above.
Two last places to mention, and you've got a hike in front of you. Head down to the southern half of the hall: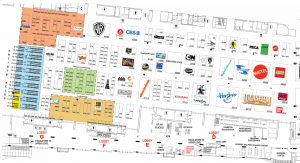 Waaay down there, past all the art materials and vinyl toys and Copic markers, you'll find Udon Entertainment (home of such worthies as Christopher Butcher and Jim Zub at Booth 4529 & 4628); it's roughtly midway between 20th Century Fox and Yes Anime, on the main travel aisle. And if you go all the way down to the vicinity of Artists Alley, The Hero Initiative is in Booth 5003, near Big Wow! Art.
Offsite
Finally, head out the doors walk across the rail tracks to the Gaslamp Hilton terrace and see Andrew Hussie at the ShiftyLook Arcade for one autograph session per day.
_______________
¹ I think that Con management learned their lesson last year when TopatoCo Supremo Jeffrey Rowland led a parade of Homestucks up to the autograph area to clear the enormous line that had built up on the floor. It was glorious to watch.
² If he ever combines his dinosaur scholarship and his Tolkien scholarship, I may die of pure nerdjoy.