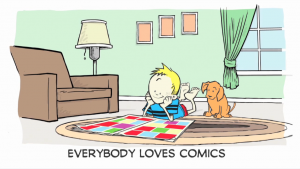 It all comes back to comics:
Sometimes I stop and think about the fact that Homestuck is the 4th longest work in the English language and just kinda nod. — George Rohac
Know who's been making himself damn near indispensable to comics as a whole, constructing what may well be the definitive filmic history of the art form? Freddave Kellett-Schroeder, the hive mind that's been toiling for pert-near four years to bring STRIPPED to a big screen near you. Last night, Fred and Dave released the first five minutes of the film to backers of their Kickstarters, and my friends — it was glorious. Somewhat less than 5300 people have had the opportunity to see that tease, and with any luck the entire world will be able to see the entire thing soon. It's gonna be great.
Know who's been making himself damn near indispensable to an entire community of webcomickers? Brad Guigar, editor and everything-in-chief of Webcomics Dot Com. And in case five years back is fading from your recollection, Guigar was one of the authors of How To Make Webcomics, which tells you exactly what it says on the cover. The thing is, as good as HTMW is, it covers a medium that changes rapidly, and five years is a near-eternity in internet terms.

There have been many requests for a sequel over the past half-decade, and Guigar has leveraged his writing for WDC to make that sequel, The Webcomics Handbook, now available for pre-order on Kickstarter. This one's a no-brainer, folks, especially considering that all backer tiers come with — quoting here — Guigar's "undying friendship". Remember, the sooner you pledge, the sooner you can book a weekend for him to help you move.

Strip Search — let's face it, season one of Strip Search — wrapped up its finale last night which means you've had 16 hours (as of this writing) to have seen it, and if you don't want to be spoiled on it, look away. I was conflicted watching Katie Rice get named the winner: zero surprise, as she'd utterly dominated the back half of the game; elation because her work was so very, very good; crushed because Abby Howard and Maki Naro didn't win¹.

In the end, it came down to what comics almost always comes down to — personal preference. Jerry and Mike had to decide what they personally most wanted to see:

A longform, horror-based, immersive-world graphic novel² from Abby, and one where they liked her off-the-cuff work better than her planned work
An almost anthropological personality study from Maki, not so dependent on your traditional-type punchlines
A loose-continuity, every-strip-has-a-punchline story that was the most comic-strippy of the finalists from Katie, and one where as strong as her final competition entries were, her pitch material was even better, giving confidence about how strong a work with plenty of time could be

From the beginning, they showed a clear preference for work in the vein of what Katie presented, and you know what? That's okay. Their show, their judgment, and it's not like giving the nod to Camp Weedonwantcha means that The Last Halloween or Sufficiently Remarkable are erased from our collective memories. I will be reading (and more importantly, buying) all three of those projects because they all hit different pleasure centers in my comics brain³.

Everybody associated with Strip Search is bound up into a web of professional and personal connections that will last and pay off for decades (Maki had some really gracious thoughts along the same lines today). As was determined back in January:

Khoo stressed the responsibility that PA had towards the winner. We will do them right. People put their necks out there and trusted us; we didn't tell them shit. They didn't know what the show would be like or how we would make them look. For taking that risk, Khoo is determined that the reward is as good as he can make it.

It's pretty clear that the doing-right is extending to all the Artists; consider that Alex, who we didn't get a chance to know, Alex has moved to Seattle, as has Amy, and also Monica (I half expect to hear that Ty and Nick are scoping out the U-Hauls). Add in the proximity of Mac and Erika, and it's clear that whatever benefits accrue to Katie being in-office will spread fairly immediately to the others in the PNW, and only slightly later to those still scattered across the country. Being part of Strip Search surely helped the crowdfunding that Monica and Lexxy undertook to success, and Erika's new comic, and the soon-to-be-announced Kickstarts from Maki and Abby. Also, is it a coincidence that since he was on the show, Tavis and his wife had a kid? Okay, yeah, probably, but you never know.

Whatever else Strip Search achieved (and from everything that Khoo, Jerry Holkins, and Mike Krahulik have said, it wasn't intended to achieve much beyond being entertaining), they've created a resonance cascade of skilled creators who are going to make each other better. Somewhere out there are people that either didn't make the cut or want to be on a future iteration and are stepping up their own comics games; almost none of them will make it onto the show (whenever a new season might occur), but a nonzero number of them will share their comics with the world.

Penny Arcade Industries has given us all far more than US$15,000 of comics that we will get to enjoy. Oh, and it's entirely possible that they've created a competitor that will eventually challenge them for their position on the top of the webcomics heap, so it's a good thing that they've still got Khoo on their side … for now.
_______________
¹ Unlike virtually every reality competition ever, I was fully invested in all the finalists; there was no villain or obvious weak link there, meaning that it was guaranteed I would be happy and sad when it was all over.
² AKA, "filthy continuity".
³ Although to be completely candid, of the three I think Sufficiently Remarkable spoke to me the most and I'm not sure if I can articulate why. In my perfect world, Sufficiently Remarkable has both "daily" and "Sunday" type strips, with the latter having the same feel as the first strip in Maki's submission packet with Riti and her father.