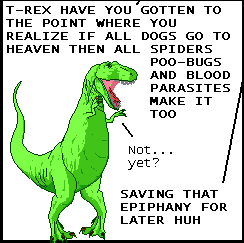 Thanks very much Ryan North¹ I will never sleep again thanks to today's Dinosaur Comics. As a quick hint, nobody wants to consider an afterlife full of parasites except for Kelly Weinersmith. Ick.
Something weird happened today: Cyanide and Happiness appeared in the comics section of more than 650 newspapers worldwide, an occurrence which all reasonable persons would have figured to be damn near impossible. Okay, it's just one panel, and it's a pastiche by Pearls Before Swine creator Stephan Pastis, and covered by censor bars, but still — just imagine all the people that read newspaper comic strips deciding to do a Google search on Cyanide & Happiness because they figure it can't be as bad as all that. I can hear the heads exploding from here.
Well, that was fast — a few weeks back I mentioned that Digger² would be Kickstarting an omnibus edition, which went live after our update yesterday. Surprising absolutely nobody (except possibly Digger creator Ursula Vernon), it completely funded at approximately the thirteen hour mark, and is well on its way to (per the Fleen Rule of Kickstarter Projections) the US$100,000 — US$200,000 range. Yeah, got it, webcomics with built-in audiences overfund their Kickstarts all the time, what's the big deal?

The deal is that the Digger campaign may have the most unusual reward ever offered — hand-forged, wombat-sized pickaxes at the $US1000 (!) backer level. Yesterday I was wondering what could be cooler than Dante Shepherd's mallets and I guess I have my answer, if only because the pickaxes will involve a forge and anvil and metalcrafting. However, somebody really should point John Scalzi toward's Shepherd's campaign, as I bet he'd love an even larger Mallet of Loving Correction.

It's been a good two months since Saveur has run any recipe comics, which means I guess I should be prodding people more to produce some of them things. I can put you in touch with their digital editor, and it's my understanding that the checks she cuts for accepted comics cash without problems. In any event, Christopher Bird of Mighty God King (and the writerly half of the stellar Al'Rashad, which improbably keeps getting better) teamed up with Shelli Hay to present a family recipe on his own damn site.

We've never met, but Bird's always struck me as a reasonable man as well as being chock-full of good comics ideas (although probably the most intriguing comic idea he ever presented was a collaboration), but I have no doubt in my mind that he means it when he says in panel number eight that he will cut you for making unauthorized substitutions. Let the home cook beware.
_______________
¹ Your status as Toronto Man-Mountain and one of the Three Ineffable Avatars of Webcomics (along with Shaenon Garrity and George Rohac) remains unimpeachable, but dang bro you brought the creepy today.
² I loves me some Digger.