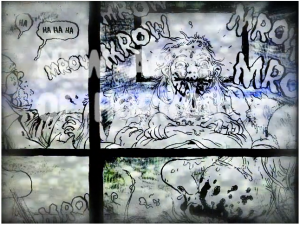 There are few things in this life more certain than Death, Taxes, and the fact that Howard Tayler¹ will have a new update to Schlock Mercenary gracing the intertoobz every dang day, come hell or high water; after all, as of the day after tomorrow it will be thirteen years of miss-free updates, so one comes to expect the pattern to continue. So naturally, I thought it was just me when about 07:10 EDT (GMT-4) I saw Schlock Mercenary was erroring out. Then a while later I saw that others were reporting issues and silently thought Not my circus, not my monkeys. It's been back for some hours, so let's all site quietly and think stable server thoughts in Tayler's direction.
New Kickstarters this morning:
As mentioned recently, Dante Shepherd is doing page-a-day calendars, meaning you can get 365 versions of Shepherd looking at you in all your most private moments for a whole year, like unto some kind of judgmental, pagan deity. At least, that's what will happen if his funding campaign (presently about one sixth of the way to goal) succeeds over the next four weeks, which looks pretty likely.
Master anthology-wrangler Spike kicked all sorts of asses with the delightul pornthology Smut Peddler, particularly with respect to the notion of sharing the wealth and paying her contributors ever more as the funding goals were eclipsed, and it was pretty certain that she would apply the same approach to her forthcoming horror anthology, The Sleep of Reason.

Today it became official: US$20,000 (the goal) will not only ensure the book is printed, but also means a US$50 bonus for each creator/creator team; every additional US$5000 pledged means another US$50 for each creator, with no cap. Last time, it was an extra US$600 in each bonus; I can hardly think of a better use of excess funds than to reward the creators (and goodness, what a list!) that made the thing that people will love. Pledge.

For those wondering if the show at the Toonseum in conjunction with Reubens Weekend, the one with original art from 60+ years of Reuben winners, would stay up, the answer is yes:


The ToonSeum, Pittsburgh's Museum of Comic and Cartoon Art will be exhibiting seven decades' worth of original art from cartooning's highest honor, The Reuben Award. The exhibit runs through August 11th 2013.

I actually got that bit of information a week ago, and I apologize for neglecting it in the meantime. Fortunately, you've still got two months to make your way to the riverfront arts district of Pittsburgh and enjoy some rarely-seen treasures.
_______________
¹ My evil twin.