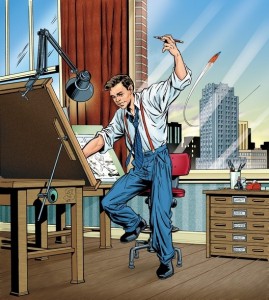 This page has, for a number of years, noted that the Joe Shuster Awards are perhaps the best-curated of the comics awards — they look at all genres and media, and so long as the creators meet the requirement of being Canadian, they're good for consideration.
Of particular note is the list of past winners in the category of Webcomics Creator / Créateur de Bandes Dessinées Web: Dan Kim, Ryan Sohmer and Lar De Souza, Cameron Stewart, Karl Kerschl, and Emily Carroll (two years running) represent the breadth and depth of Canadian cartooning, and possibly Canadianess itself. And if the Shusters are a bit less spare than they once were, there are still only nine categories, compared to nearly thirty for the Eisners.
This year's nominations are out, and those singled out for recognition that may be of interest to the webcomics community include:
Artist/Dessinateur
Rámon Pérez (who will hopefully find the time to get back to Kukuburi)
Stuart Immonen (who once did the brilliant Moving Pictures with his wife Kathryn, but which was taken down the face of rampant piracy)
Cover Artist/Dessinateur Couvertures
Writer/Scénariste
Webcomics Creator/Créateur de Bandes Dessinées Web
The Dragon Award (Comics for Kids)/Le Prix Dragon (Bandes Dessinées pour Enfants)
Emily Carroll (is among the many who contributed to Spera, volume 1)
Fleen congratulates all of the nominees, and notes again the general lack of weak or inexplicable names on the list. The 2013 Joe Shuster Awards/Le Prix Joe Shuster 2013 will be presented not at a convention, but at a gala in Toronto (time/location TBA) on Saturday, 25 August.