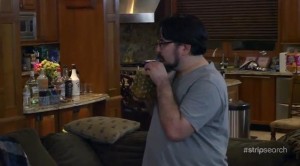 Via Robert Khoo's twitterfeed:
Anyone in Seattle have access to a theatre for a live Stripsearch Finale Screening on June 18th? :)
Okay, looking at the calendar we've got the Maki/Lexxy elimination tomorrow, then four more episodes on 7, 11, 14, and 18 June. I had speculated early that there might be a final three approach (there's ample precedent in the reality competition genre), but given the setup of the Strip Search Thunderdome, it make sense that all eliminations will be two Artists head-to-head, and this schedule reinforces that thought Consider: that gives us time for a social challenge among three competitors (7 June), a competitive challenge for immunity (11 June), an elimination to get us down to two (14 June), and the Big Ready-Set-Art on 18 June.
Now the most important word in Khoo's tweet is live. In all my conversations with him regarding Strip Search, he's never definitively answered my question if the winner was chosen during the filming back in December; while there could be an argument that this will merely be a screening of a episode already in the can, I think it's more likely the case that whoever the final two Stripmonauts might be¹, they'll be hashing it out in real time in front of an audience (or possibly simulcast, depending on what kind of "theater" we're talking about). I would expect that the entire thing will be livestreamed, or at least it'd better be if Khoo, et. al., wishes to avoid a pitchfork-wielding mob because you know anybody in said theater is going to be livetweeting the crap out of this showdown.
As brought up by the Katie/Abby dinner with Khoo, Mike Krahulik, and Jerry Holkins at the end of the last episode, there remains the question of what kind of twist² the show's conclusion may have. While I've seen a lot of thought given to the idea of bounced Artists forming a kind of jury (cf: Survivor), the focus of the show has been on the preferences and judgments of Holkins and Krahulik and I don't see them opening the decision-making process to anybody else — not Khoo, not other trusted PA employees, not Artists. Penny Arcade has always been an expression of the unholy melded ids of Mike and Jerry³ and I wouldn't expect them to break that habit at this late date.
I imagine that all of the speculation will be cleared up in the next day or so; I intend to keep an eye on the Strip Search news page, Khoo's tweets, and Seattle performance listings.
________________
¹ I consider words that Khoo did share back in January: While there will be no way to tell the entire story of what happened in the mansion, there was a natural narrative that emerged during filming. By that standard alone, among the four remaining Artists there are three really compelling narratives:
Katie starts out wobbly and goes on to dominate the challenges
Abby starts out under-confident and proves herself a natural
Lexxy prevails over past instances of coming up just short of the brass ring and finally makes it in the doors of Penny Arcade
Maki — whose work I adore and who also was responsible for the single best visual of the show — doesn't have the punch to his narrative (last guy standing makes a comeback against super-talented ladies) so I'm afraid he's not in the final. If I had to guess I'd say it's Katie vs Abby in the final just because they are unstoppable and Lexxy doesn't actually have a webcomic yet. But I've been wrong on subjective and elimination challenge calls about two thirds of the time so what the hell do I know?
² For example, I don't consider it entirely beyond the pale that some Creator's fiat brings back Team AmErika for a joint win.
³ In this model, Khoo forms the ego role, and I'm not sure that there is a super-ego in the mix.