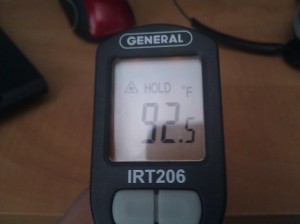 We are on Day Two of at least three days of 91F (33C) weather, the air conditioning is out, and the afternoon sun is just starting to crank up the joules. Somebody kill me, or at least send me a bucket full of cold I can pour on me and my dog. That's right, I want a bucket of pure, uncut, essence-of-cold. And yes, I'm well aware there's no such thing as cold, only heat and less heat. What you're overlooking is the fact that I don't care so kindly rework the laws of physics and get me some cold, please.
You know who is, right about now, absolutely horrified by that whole bucket of cold thing? Dante Shepherd, professor of Chemical Engineering, thermodynamicist-at-large, educational innovator, and itinerant webcomicker. Today marks five years of Shepherd's dailyish Surviving The World¹, and on top of that he's got some exciting announcements:


Many of you have asked for a collection of STW comics for a while now, so in response, with the help of Topatoco and Make That Thing, sometime next week will see the launch of a Kickstarter campaign to help make STW page-a-day calendars! … [H]ere's a potential example of the final product.

Just as many of you have asked for an app for STW for years, so I'm also happy to announce that starting Monday, STW will be available through the Comic Chameleon app!

What? You want yet one more announcement? OK, OK – based on requests, I'll bring back recitations² sometime soon, too.

We at Fleen congratulate Shepherd on his achievements, his future plans, and hopes sincerely he doesn't apply that mallet to our heads for the whole bucket of cold thing. We at Fleen are very, very sorry.

In our discussion of Shaenon Garrity's imminent wrap-up of Narbonic reruns yesterday, we inexcusably neglected to mention that Garrity will still be doing two actively-updating webcomics for the forseeable future. Skin Horse (co-written with Jeffrey Wells) just gets weirder and more loopy as it careens from classic children's literature reference to classic children's literature reference³ with no sign of end in sight.

And although it will be, by design, a limited affair, Garrity's Monster of the Week has, over the past not-quite-year, brilliantly deconstructed most of the first two seasons of The X-Files, which means two very important things:

Garrity's got three episodes to the end of season 2 (plus one season-ending recap), and four weeks to her one year anniversary, so let's call it two seasons per year. At this rate, we'll get another three and a half years of what is this crap Scully and sexy, sexy Skinner. Also, mites and annoyed Shaenon.
On 19 July, the Friday of SDCC week, we will be Clyde Bruckman's Final Repose and on 8 November we will get Jose Chung's From Outer Space, the two greatest episodes of The X-Files ever and I'll fight any man-jack that says different.

The latest episode of Strip Search put the four remaining Artists through contract hell and — spolier alert! — Robert Khoo enjoyed himself entirely too much, cranking the charm, the smarm, and the hostility up to eleven while trying to fast-talk the Artists into thinking that his very sticky contract is a good thing for them because they're friends. No kidding, I would watch an entire season of Robert doling out the passive aggression.

But even above its entertainment value, episode #27 is valuable because it emphasized the importance of not letting yourself get screwed, which even veterans can have problems with4.

By coincidence, today also marked the release of the latest posting at Work Made For Hire, which presented a brilliant technique for directing a negotiation on contractual points that everybody who freelances needs to read right now. Key point:

The difference between what Dylan [Meconis] and I asked Lo was that when Dylan talked to him, he was given the power to make a very specific choice, and both options were something Dylan wanted him to do.

Guys, I'm not a freelancer and I intend to use "The Babysitting Question" in my life every chance I get from now on. It's brilliant.
________________
¹ To be precise, today is StL #1773 and in the past five years there have been 1826 days what with the leap year and all, meaning that Shepherd comes up 53 strips short of "daily", or just over one missing day every five weeks. I think we can count this as "daily".
² The recitations, of which there have been 100, are answers to specific questions sent to Shepherd. Since there have been 100 of them, that means he's really done 1873 updates in 1826 days, or an average of one extra strip every five weeks. So really we can call StL daily-plus.
³ I'm still holding out for some Purple Crayon.
4 It may have just been the editing, but in the episode as streamed, only two of the Artists brought up the idea of having a lawyer review the contract, and only one did so right at the beginning to put Robert on notice; I was hoping it would be all four.