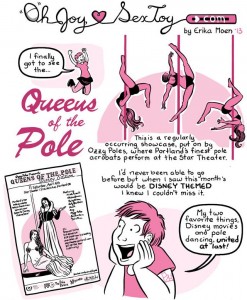 So round about 3:00am¹ today my EMS pager went off (holiday duty, y'all) and I realized while getting ready to head out lights-and-sirens on a chest pain call that I'd been dreaming about Erika Moen choreographing her fellow Strip Search Artists into an (interpretive, classy, educational, and definitely PG-13 rated) pole dance routine designed to teach the lessons imparted in Oh Joy, Sex Toy. This indicates either I am dangerously insane, or I may have discovered the greatest side project for webcomics creators ever. Don't tell me if it's the insane one.
Over the weekend the National Cartoonists Society had their big weekend o' fun and for the second year recognized excellence in the field of online comics. Although Jon Rosenberg will always be the first person to receive an NCS division award for an online comic, this year the award was split in two, so two more creators can say that they were the first ever honored by the NCS for (respectively) the Long Form and Short Form online comic.

Long Form went to Vince Dorse for Untold Tales of Bigfoot, which I've enjoyed reading since the nominations were announced back in March. Somebody more clever than me described UToB as "Bone-esque" which is pretty high praise, and I'm happy to say that any of the three nominees could have been found a deserving winner, although I was totally pulling for Meredith Gran² ³.

Over on the Short Form side, Graham Harrop's Ten Cats won over Jonathan Lemon's Rabbits Against Magic and Michael McParlane's Mac; there was some dissatisfaction expressed back in March that these three strips are all associated with GoComics, not independent in the sense of the other six nominees for Online Comics have been over two years, and not representative of that not-really-definable "webcomic aesthetic". And I've been thinking about that.

The thing is, if (as webcomics boosters have said, and we at Fleen are no exception to this) webcomics should be allowed to compete against whatever you can define (if anything, at the point) not-webcomics, without distinction to medium of distribution, then the three nominees in Short Form make sense — they were chosen for consideration by the NCS jury without consideration to where they came from, and may well be seen as representing a step towards not having "online" as a separate category of the NCS awards.

Would I prefer to see Girl Genius or The Abominable Charles Christopher up against, say, Fables, Johnny Wander or Girls With Slingshots up against Pearls Before Swine4, and Becky Dreistadt dominating the Book Illustration category? Absolutely, and I'll be certain to get right on that as soon as I'm in charge of the world. In the meantime, progress.

Speaking of Becky Dreistadt5, I confess myself surprised to see that she's involved in some book Kickstarters that look like they're going to make goal, but aren't seeing the big multipliers that history would have indicated. Firstly, the original four B9 Kingdom creators are nine days out from their three themed books collection, Midnight Monsters closing; while they're on track to make goal, they aren't going to do the three-to-nine times overfunding that B9 has managed in the past. Similarly, the second volume of The Bear is verging in on goal with eight days to go but won't hit the nearly five times overfunding of volume one.

I can't figure out what the slowness in support is down to. Midnight Monsters is actually a pick-your-favorite collection of three books rather than a single project, and I thought that structure might have driven more support to the project by allowing a super-fan of (say) Evan Dahm who isn't that fond of (say) KC Green (not that I think any such people actually exist) to back one creator economically rather than decided to forgo because money would have gone to another and made support too expensive. Additionally, the lack of stretch goals may be removing some of the "game" aspect from this campaign.

But then, The Bear 2 has stretch goals, and two reasonably rabid fan bases behind it (the other supplied by Ryan Sohmer), and it looks like it will make the first stretch but won't be achieving one after another like the first time out. I wonder if having the two projects are cannibalizing each other by running at the same time rather than being separated by a couple of months? Have we just reached market saturation on gorgeous, high-quality art books?

In any event, this is neither the time for complacency nor for despair, as I want my damn Midnight Monsters and The Bear 2 books, so kindly go sell some plasma or tell your grandkids that plenty of people get by without insulin for a week and pledge, dadnugget.
_______________
¹ Coincidentally about the same time that the latest episode of Strip Search went live.
² Not that that's much help; I was also totally pulling for Erika Moen in Strip Search; in my heart, they are both winners.
³ I shouldn't neglect to note that Pat Lewis was the third nominee, for Muscles Diablo in Where Terror Lurks, which is also terrific.
4 And hoo boy, Stephan Pastis may as well start signing himself Susan Lucci, having been nominated six years running for the top NCS award — the eponymous Reuben — and this year losing out to both other nominees in a tie.
5 And before I forget, happy belated birthday, Becky.