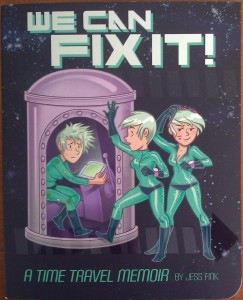 Having picked up a copy at my local comic shop over the weekend, I was going to tell you what I thought of We Can Fix It today, but then I made the mistake of reading The AV Club and saw that Noel Murray said everything I wanted to, only better:
A clever, poignant twist on the autobio comics format, Jess Fink's We Can Fix It!: A Time Travel Memoir (Top Shelf) ponders what would happen if the author went back in time to warn her younger selves not to make so many dumb mistakes, whether it be trusting the wrong boy, taking the wrong drug, or acting rudely toward her mother. […] The result is a book in which Fink treats her own life as a series of loosely connected vignettes, open to different interpretations depending on who she's become by the time she looks back at them. This isn't just an effective way to handle autobiography, it's one with a touching take on the interconnectedness of people's best and worst moments.
That's much better than what I was able to come up, which isn't really a surprise given that Murray is a nationally-regarded culture critic and all. In any event, I'm more than happy to point you towards words that may convince you to read We Can Fix It, as I think it's something everybody should do. It's smart and funny and sweet and wise and full of joy and hurt and sexy, sexy time-travel jumpsuits. Give it to the person in your life that needs to be reassured that none of us has all the answers, but that's okay.
Hail to our new overlords protectors, I meant protectors. Wes Citti and Tony Wilson, previously best known for making some amazing soup, have decided to branch out into technology and are Kickstarting the entire process. I must say, their campaign to build an orbital death ray is going to throw off my Kickstarter models, what with having backer tiers up to the US$100,000,000,000 level and a total goal that could be expressed as approximately 4% of US GDP.

Going by the Fleen Fudge Factor for Kickstart predictions¹, Wes and Tony are on track for reaching their second stretch goal. On the other hand, I expect the usual delays in delivering on the promised rewards, so don't hold your breath that the world will be destroyed until at least six months after the predicted doomsday.

Readers of this page should be well familiar with Zahra's Paradise from :01 Books, which launched back in 2010 and saw print eighteen months later; for those who are new around here, it's the work of semi-anonymous political exiles commenting on life in Iran since the discredited elections of 2009. When the state has taken your child and you've finally retrieved his body, what more is there to fight for?

The thing about elections, even in places where only the vestiges of democracy exist, is that they come around again. Zahra may not be a real person (although her experiences mirror those of far, far too many people in Iran), but that hasn't stopped her from taking a stand in this election cycle. Vote4Zahra chronicles the story since "the end" as Zahra declares herself a candidate for President and speaks truth to the clerics that hold power in a country made up predominantly of youth eager to engage with the world. Here's hoping her message makes its way to where it can encourage those who need encouragement.
_______________
¹ Look at the Kicktraq prediction afer two days of funding, and at the trend prediction; most projects will hit somewhere between 1/3 and 1/6 of the prediction.