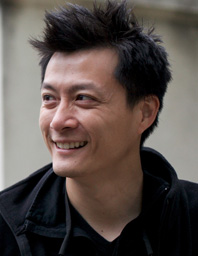 Are you ready for the weekend? I am. Let's do some quick clean-up on the news and get outta here.
They say LA is an unforgiving town, built around the entertainment industry, not kind to those who aren't Botoxed, rich, and connected. So how to explain LA Weekly naming Jorge Cham to its annual list of the most interesting people in LA¹, a list which includes the likes of models, porn stars, fashion designers, athletes and actors? Oh, maybe because it also features the likes of George Takei and Bobak Ferdowsi, so there's room in there for the geek-friendly. Cham's journey from robots to cartoons to generalized high-ed boosting is a feel-good story, one which just might get him a table in the hot restaurants and clubs for a week or two.
Speaking of LA, a quick fact on the upcoming Capture Creatures show at Gallery Nucleus; Frank Gibson has shared with us that if you're lucky enough to snag one of the151 different paintings that Becky Dreistadt will have on display, it'll set you back a thematically-appropriate US$151. For a five-by-seven (inches) original, that's a damn bargain.
If you have anything to do with writing about [web]comics, you should have an ironclad rule: When Dave Roman sends you announcement about a project he's involved with, pay attention to that. In this case, Roman has teamed up with his Kids Comics Revolution podcasting partner (Jerzy Drozd, and not the one that makes bass guitars), his former partner in the heyday of the now-shuttered Nickelodeon magazine (Chris Duffy, and not the baseball player or the other baseball player)², and the Ann Arbor District Library to honor the best of all-ages comics for 2012:


From now through June 23rd, 2013, kids vote online at http://www.kidscomicsrevolution.com or by filling out the paper ballot at the Toronto Comics Art Festival or the Kids Read Comics celebration. Voting will be filmed and posted online. Results will be announced June 23rd at a special ceremony during the Kids Read Comics celebration at the Ann Arbor District Library.

Categories include four variations on Favorite Graphic Novel, two variations on Favorite Comic Book Series, Favorite Cartoonist/Author, and four categories not likely to make it to the Eisners: Cutest Character, Best Hair in Comics, Grossest Thing in Comics, and Special Award for Excellence in Drawing Delicious-Looking Food (I must admit I'm particularly interested in the results of those). Oh, yes, and there's also Favorite Webcomic category, with nods given to:

Strong slate, and similarly well thought out throughout the other categories. Well done, Messers Duffy, Drozd, Roman, and everybody at AADL, and here's hoping that we see the Second Annual KCR! Awards become even bigger and more prestigious.
_______________
¹ Which is not to say that we at Fleen think that Cham couldn't succeed on LA's traditional terms. Little nip here, a tuck there, he could headline a Bravo series about Real Engineers of Pasadena.
² While Chris Duffy doesn't strike me as too uncommon a name, I would have been really surprised by the fact that there are two guys out there named Jerzy Drozd were it not for some other, equally-improbable repeats that I'm aware of.