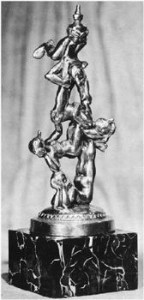 Readers of this page may recall that we at Fleen (which readers of this page will surely know is just a fancy-pants way of referring to me as there ain't really anybody else 'round these parts) have participated in a peripheral way with the National Cartoonists Society's annual division awards re: webcomics, and may also recall that the NCS gives out said awards during Memorial Day weekend (which I was privileged to attend last year).
What you might not recall is that this year, the NCS is doing something really neat in conjunction with Reubens Weekend that is pretty awesome. Given that said weekend is taking place in Pittsburgh, it's a no-brainer that the NCS would team up with the home-town comics heavyweight, The Toonseum. More specifically, The Toonseum (in conjunction with San Francisco's Cartoon Art Museum, also a favorite of this page) will be having an exhibition of original artwork by Reuben winners, nearly 70 years worth:
This is the first time in the organization's history that original art from these legendary artists has been assembled in one exhibition. Rare works seldom seen by the public from artists such as Gary Larson of Far Side, Charles M. Schulz of Peanuts, and many more will be displayed.

The exhibit is part of a celebration of comic and cartoon arts as the National Cartoonists Society brings their annual conference to Pittsburgh for the first time.

A special VIP fundraising opening reception will take place on Thursday, May 23rd as part of a weekend-long celebration of the comic and cartoon arts. Information on the VIP event tickets can be found at http://comicvip.eventbrite.com/.VIP tickets also include reserved seating for panel discussions on Sunday, May 26th, a signed limited edition print, meet and greet, and much more!
For everybody else, The Toonseum will be turning its corner of Pittsburgh into a street party on the 900 block of Liberty Avenue on Sunday, 26 May, from noon to 5:00pm. Street fun is free, and the usual five dollar admission price gets you into The Toonseum for the exhibit (and signings with many, many artists), and twenty bucks will get you into panel discussions at the Bricolage Theater.
If you live anywhere near Pittsburgh, I cannot urge you strongly enough to try to take in this show. What the heck, it's a long weekend, you can skip one afternoon of cookouts for a once-in-a-lifetime event like this. Sadly, I've got EMT duty that weekend (everybody's got to do their turn on holidays), so you'll have to tell me how it was.