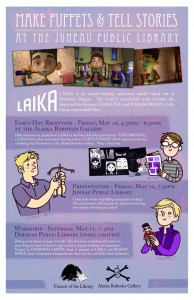 But first, a quick correction; yesterday we at Fleen implied that all-around creator-owned comics superstar¹ Jim Zub got his gig writing a two-part digital-first Batman story as a consequence of not burning bridges when he got cut (publicly and foolishly) as the writer on Birds of Prey before an issue had even been completed. Mr Zub informs us that in fact the Batman gig predated the BoP fiasco²; however, the lesson remains: be classy and professional at all times as it's better for your career. Whenever faced with a dilemma about how to proceed, ask yourself What would Zub do? and then do that³.
TCAF! The Toronto Comics Arts Festival kicks off this weekend at the Toronto Reference Library and other nearby venues (programming also takes place in the Toronto Marriott and the Pilot Tavern, each mere steps from the TRL), and it is totally free to attend. So many webcomickers and natural allies are going to be there that it's probably easier to list out who isn't there this weekend; there are sixty-six book debuting, and panels out the wazoo. Here's just what caught my eye:

Saturday, 9:30-10:15, TRL Novella Room; Toon Books Storytime Celebration Featuring Frank Viva, Frank Cammusso, Francoise Mouly
Cartoon Books needs to find a way to hire Frank Gibson so they can have just one more Frankish name on this panel.

Saturday, 1:30–2:30pm, Marriott Forest Hills Ballroom; Moebius, Past and Future
If you can't find Aaron Diaz4 on Saturday afternoon, it's because he'll be in the first row of this panel.

Saturday, 10:00-11:00, Pilot Tavern; Crowdfunding Comics
This has the potential to be the first Kickstarter-themed panel that isn't attended primarily by a bunch of haven't-created-anything-yet-give-me-money types. If not, panelists like Spike and Holly Rowland will put 'em straight. If they can't be put straight, 10:00am is not too early for a grizzled comics pro to start drinking and oh look, we're already in a bar, so watch if, all you h-c-a-y-g-m-m types.

Saturday, 1:30–2:30pm, Pilot Tavern; Machine of Death Pictionary!
Always a big draw (ha, ha; oh god I'm sorry); I look forward to seeing the video of this one.

Sunday, 1:30–2:30pm, TRL Learning Centre 1; Spotlight: Lisa Hanawalt
Did Tom Spurgeon manage to sneak his killer robots across the border? Signs point to yes.

Sunday, 11:00-12:00, Pilot Tavern; Is Comics Blogging Over?
Uh oh; comics bloggers and booze.

Hmmm, that's six down and sixty more to go. That's right, there are as many panels as there are debut books. COINCIDENCE??5

On the off chance that you can't be in Toronto, but do feel the need to be north of 49 (as they say), Vera Brosgol and friends will be making the trek north to Juneau, Alaska this weekend for puppet-related events, this being the second event in the past month sponsored by Alaska Robotics to bring webcomickers to Juneauans rather than make Juneauans travel far distances to catch up with webcomickers. A grand plan, says I, and I hope to see more creators pulled north by the siren call of whales, glaciers, and the scent of sitka spruce. It is seriously beautiful up there, guys, and if AKR were to invite you, I'd jump on the offer if I were you.
Finally, a treat for everybody that didn't take advantage of Ryan Estrada's Whole Story Winter 2013; you may recall that I reviewed KC Green's contribution to the choose-your-price comics bundle, The Dog's Sins, and found it terrific. Speaking with Green last month at MoCCA, he mentioned that he was thinking of putting The Dog's Sins online in conjunction with a milestone update at Gunshow (aka hugs own, hugs now, ugh snow, uh gowns, and others). That milestone comes today, update #700, and you should go read it now because it's wonderful, maybe Green's best work ever (much as I love The Anime Club). Go. Read.
_______________
¹ And, if there's any justice in the world, soon-to-be plain old superstar, period. Zub's check with way too many zeros, his just reward for all the things he's created, should have been in the mail five minutes ago, world.
² My wording, not his; he's too classy to hold grudges but I have a low and suspicious nature and am not classy in the least.
³ Except if your answer is Write and publish a few dozen issues of Skullkickers, because that ain't yours to do, Sparky.
4 Tolkien and dinosaur scholar par excellence.
5 And for a double dose of COINCIDENCE??, Kevin McDonald was in a comedy troupe with Scott Thompson, who will be hosting the Doug Wright Awards in conjunction with TCAF. Once again, COINCIDENCE??